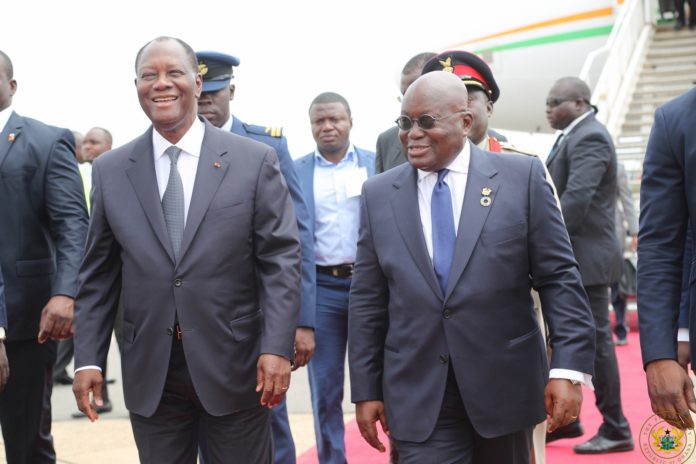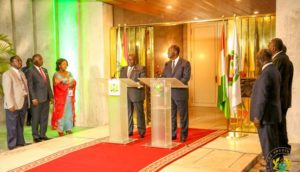 Ghana and Cote d'Ivoire are working to come out with policies that will increase the earnings of the two countries in the cocoa industry and protect the livelihood of farmers.
The two Countries have also begun to cooperate to ensure their farmers are not victims of the global cocoa industry.
President Akufo-Addo stated this when he hosted visiting Ivorian President Alassane Ouattara to a state dinner in Accra last night. The dinner saw President Ouattara being decorated with the highest state honour, the Companion of the Star of Ghana.
Addressing attendees at an official state dinner in honour of the President of the Republic of Côte d'Ivoire, Alassane Ouattara as part of his two-day official visit to Ghana, President Akufo Addo said the proposed coordination of policies between the two West African countries will help to better protect their farmers and guarantee better life and financial remuneration for them.
"Being the two largest producers of cocoa, Ghana and Côte d'Ivoire have begun to cooperate to ensure that we do not continue to be victims of a global cocoa industry that is dependent on the work of our farmers," the President said.
President Akufo-Addo bemoaned the low earnings from cocoa that Ghana and Côte d'Ivoire currently receive despite the fact that the two countries are the world's leaders in cocoa production.
"It is worth stressing again on this occasion that in 2015, our two countries earned from our output which accounted for 65% of the world's cocoa production, some $5.75 billion at a time when the global chocolate market was worth some $100 billion
To this end, President Akufo-Addo said he and his Ivorian counterpart have agreed to work together to provide leadership for technical and political corporation between the two countries that will promote the interest of Ghanaian and Ivorian farmers.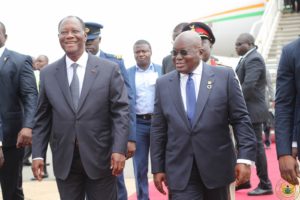 Nana Addo Voice
President Ouattara on his part assured that he and his government are ready to corporate with Ghana in all possible ways to realize full benefits from the global cocoa industry.
President Alassane Ouattara voice
Source, otecfmghana.com/Eric Asamoah Protocol