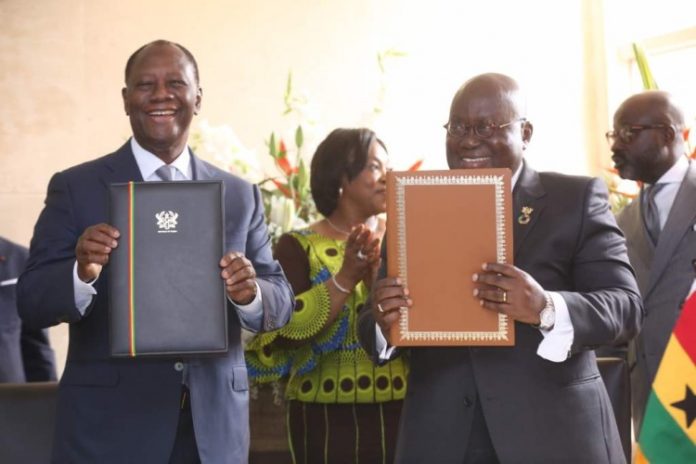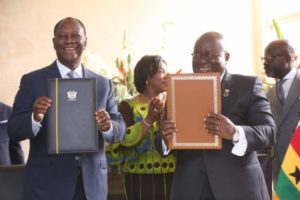 Ghana government has enlisted the cooperation of its Western neighbour, Ivory Coast, in its fight against illegal mining following a two-day state visit of President Alassane Ouattara.
The two countries signed a Memorandum of Understanding to have a joint technical sub-committee of experts to monitor the Bia and Tano river basins which run through the two countries.
A dam on 300km river Bia which serves the Dormaa-Ahenkro communities in the Brong Ahafo Region was closed in 2015 because, heavy illegal mining threatened the supply of potable water.
River Tano at Elubo near Ivory Coast border has been destroyed by hordes of nationals from China who illegally mining the waterbed.
The two countries also signed a "strategic partnership agreement" to respect a ruling on maritime boundaries of the two countries which was delivered in Berlin, Germany in September 2017 by the International Tribunal for the Law of the Sea (ITLOS).
Known as the ITLOS judgment, it effectively ended Ivory Coast's claim to oil-rich reserves within Ghana's waters.
There are orders to properly set maritime boundaries after decades of a 'gentleman's agreement' between the two countries failed to foil a legal tussle over oil in the ocean bed.
To this effect, Ghana and Ivory Coast will now form a joint-committee with Ivory Coast to supervise the delimitation process.
Speaking after the signing at the Flagstaff House, President Nana Akufo-Addo said he is determined to ensure that a bilateral agreement is fully implemented for the benefit of the Ghanaian people.
"Beyond the arrangements on paper, whatever technical understanding that maybe, if there is no will to make the words on paper live in the lives of people, they remain exactly that; words on paper."
President Akufo-Addo said Ghanaians demand that his government works and maintains friendly relations with Ivory Coast.
Source, otecfmghana.com