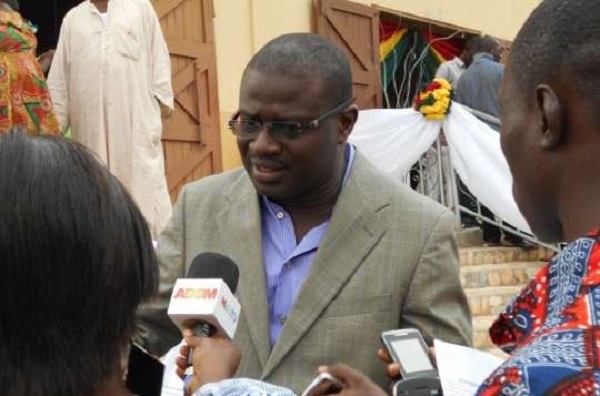 The Chairman of the Parliamentary Select Committee on foreign Affairs and Members of Parliament for Nsawam – Adoagyiri in the Eastern region, Hon. Frank Annor – Dompreh has charged the Minority in Parliament to be responsible in the handling of security issues.
According to him, the manner in which the minority in parliament organized a press conference over reports that Ghana is the second highest country that contributes fighters to ISIS in Libya is needless.
The Minority in parliament yesterday in a press conference called on government to treat as urgent a Libyan report which cites some Ghanaians as members of the terrorist group, Islamic State.
To this end, they are making a number of demands including "government must publicly react to this inquiry by the Libyan Attorney General's Office due to its grave ramifications on Ghana's image.
Speaking to Otec FM's Kwaku Anane Junior the Chairman of the Parliamentary Select Committee on Foreign Affairs stated that the minority acted irresponsibly because security issues must not be treated that way.
"Foreign Affairs yesterday called a press conference on this. That ISIS saga, if you know the kind of people they are you wouldn't joke with it. We got the information on the internet and we informed the Minister Instantaneously and she told us that they have started investigations," he said.
"On Issues regarding our security you have to exercise restraint and finish with thorough investigation before making them public," he added.
Hon. Annor Dompreh noted that in the year 2015 when they were in opposition, there were similar reports that a 25 year old graduate from KNUST, Nazir Nortei Alema, threw his family into a health-threatening stress, as he joined the swelling ranks of the Islamic State in Iraq and Syria but they didn't rush to announce that at a press conference.
"We exercised patience and reported to the security agencies for investigations to be conducted but here we are with a story which has not even been authenticated," he stated.
"So if you are a responsible minority what you have to do is to report for an investigation to be conducted because it has consequences on the country at large," he noted.
He urged the minority to be responsible especially when handling issues on security, adding that, "we don't joke with it so we are advising them and if they listen it will help all of us," Mr. Annor Dempreh added.
"Rushing to organize press conference, press conference, press conference issues on security are not treated this way, and if you are in a country and you are a traitor you bear the consequences," he concluded.
Source: otecfmghana.com/Kwaku Anane Jr.