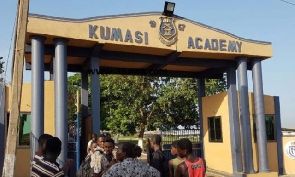 Two first- year students of the Kumasi Academy have died under mysterious circumstances.
Nhyira News sources say three others are on admission at the Kwame Nkrumah University of Science and Technology Hospital.
The cause of death and aliment is unclear as authorities remain tight-lipped over the development.
The students had been rushed to the hospital after they complained of fever-like conditions at the school's clinic.
Regional Health Directorate has directed all health conditions reported at the school's clinic be referred to KNUST Hospital for treatment whilst it carries further investigations.
Three students of the school died under similar circumstances in April this year, sparking off chaotic uproar as parents besieged the school in desperate move to take their wards home.
Though the cause of death was later established as meningitis, all students, except finalists, were asked to go home.
News of the latest development comes ahead of the school's 60th anniversary durbar tomorrow, Saturday.
School authorities are reluctant to speak to the issue as feverish preparations go on for the anniversary, expected to be graced by President Akufo Addo.
Nhyira News hospital sources indicate authorities have sent test samples to the Noguchi Memorial Centre for Medical Research examination.
The sources says post- mortem examination has ruled out meningitis as the cause of the death of the Science student.
Source: Myjoyonline