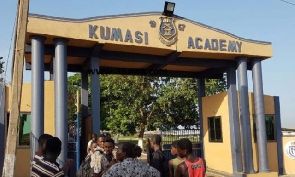 Students of the Kumasi Academy are to be vaccinated following the death of three students believed to have been caused by meningitis last week.
The Director of Public Health at the Ghana Health Service, Dr. Badu Sarkodie said the service is awaiting autopsy reports to establish the cause of death.
Meanwhile, students, staff, parents and guardians of the Kumasi Academy in the Asokore Mampong Municipality of Ashanti are grieving following the resurgence of mysterious deaths among the students in the last few weeks.
Just last week two first-year students all males were confirmed dead from an undisclosed cause.
GBC's Radio Ghana sources can confirm that the deceased students who complained of feverish conditions and first reported for first aid at the school's Sick Bay, died on different days in the hospital.
Three other students who complained of similar health conditions are still on admission at the hospital where they are said to be responding to treatment.
The situation nearly necessitated the cancellation of the 60th-anniversary celebration of the School which is being climaxed with a grand durbar at the school's premises today.
The series of unexplained deaths started in March this year. Autopsy reports suggest the students died from a strain of Meningitis
The Headmistress of the School during whose tenure these deaths occurred has since been replaced.
In a related development, the Headmaster of the school, Reverend Sylvester Osei-Wusu is assuring parents that their children are safe.
Source: GBC