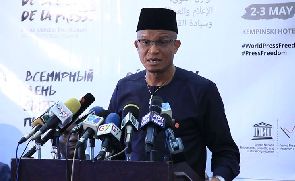 Government has lashed out at opposition NDC for failing to put to order deputy General Secretary of their party, Koku Anyidoho after some comments he made during an interview.
The comments are to the effect that the government of Akufo-Addo will be overthrown by a civilian uprising in a coup.
The opposition NDC has issued a statement to distance themselves from the coup comments of their Deputy General Secretary insisting that it doesn't reflect the official position of the party.
The stance of the party has, however, not gone down well with the government as they stress the opposition party must condemn his comments and take stringent actions against him.
The statement read "We find the NDC's reluctance to condemn Anyidoho as particularly disturbing because Anyidoho alleges that, "the 'Coup d'etat' is starting on Wednesday", and we know that the demonstration on Wednesday has the full endorsement of the NDC.
It is therefore important that the NDC demonstrates its commitment to democratic governance by showing that the Wednesday demonstration is not a smoke screen for fomenting insurrection as Anyidoho claims."
"We, therefore, call on the NDC to show its commitment to Democratic Governance by condemning unreservedly, the treasonable comments of its Deputy General Secretary" it continued.
Source: www.ghanaweb.com