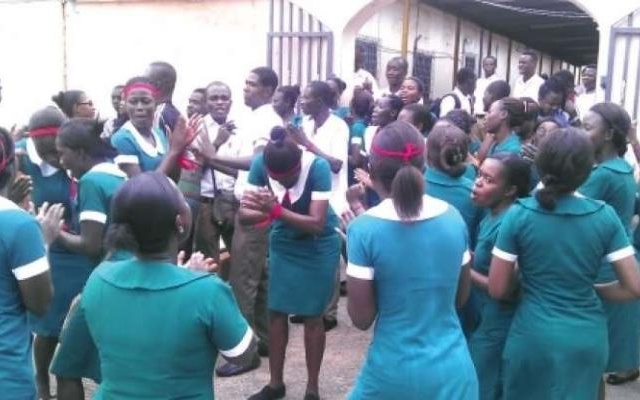 Members of the Coalition of Unemployed Bonded Nurses and Midwives have issued a threat to picket the Ministry of Health on Monday, 23 April 2018, if they are not employed by government by that date.

The nurses and midwives said they cannot travel to other countries when the opportunity arrives because of the bond they signed, and, so do not understand why the government is not employing them.

They complained that even though they were promised employment by the end of March this year, nothing of that has happened.

"We are hungry and suffering, our knowledge in nursing is kept under lock and that is so worrisome to us and our families," the Coalition said in a statement.

The statement read: "The delay of financial clearance, hence delay in postings, is an emergency concern that ought to be addressed with immediate effect to curb the emerging challenges we are facing.

"We are facing a lot of challenges in our homes [and have become] a burden on our family and society as a whole; private hospitals are not employing us because of the bond agreement between us and the government. We cannot travel to other countries when the opportunity arrives because of the bond between us and the government.

"The promise of the deputy minister, Hon. Tina Mensah must not end up as erroneous to the entire nation. We were assured that by ending of March, clearance would be ready but that hope seems to be a mirage because the month has ended but we are still at home.

"We believe in the competency of the Minister of Health and government that this release be treated with great importance else we will not be responsible for our action later. We shall troop to the Ministry of Health in our numbers on the 23rd April 2018 if appropriate response is not issued immediately!"

Read the full statement below
PRESS RELEASE 16th April, 2018
COALITION OF UNEMPLOYED BONDED NURSES AND MIDWIVES
2016 FEBRUARY BATCH
EXPLAIN TO US WHY WE ARE STILL HOME
We the leaders and members of bonded unemployed group of nurses and midwives want to alert the Health Minister, Hon.  Kwaku Agyemang-Manu, the Director General of Ghana Health Service, Dr. Nsiah Asare and the Government of Nana Addo Dankwa Akuffo-Addo that the delay of financial clearance hence delay in postings is an emergency concern ought to be addressed with an immediate effect to curb the emerging challenges we are facing.
We are facing a lot of challenges in our homes as burden to our family and society as a whole, private hospitals are not employing us because of the bond agreement between us and the government. We can not travel to other countries when the opportunity arrives because of the bond between us and the government. we are hungry and suffering, our knowledge in nursing is kept under lock and that is so worrisome to us and our families. The promise of the deputy minister, Hon. Tina Mensah must not end up as erroneous to the entire nation. we were assured that by ending of March clearance would be ready but that hope seems to be a mirage beacuse the month has ended but we are still at home.
We believe in the competency of the minister of health and government that this release be treated with great importance else we will not be responsible for our action later. we shall troop to the ministry of health in our numbers on the 23rd April, 2018 if appropriate response is not issued immediately!
Thank you.
President                  :      Obour Daniel