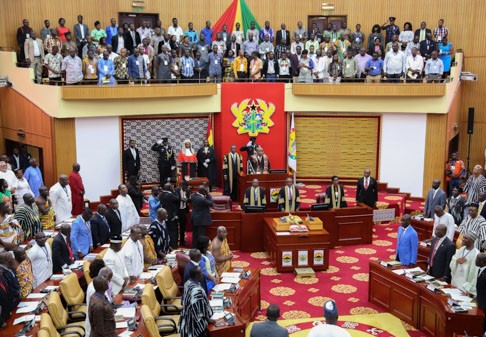 Parliament is set to reconvene for the 2nd Meeting of the Second Session of the 7th Parliament of the 4th Republic today,  Tuesday, May 15, 2018.
A Statement issued in Accra and signed by the Acting Director of Public Affairs, Kate Addo said "during the Meeting, the House will work on a number of items which include Bills, instruments, Motions, Referrals as well as Directive from the Speaker.
Items lined up include Forty-Nine (49) Bills which will be presented for the first time."
Some of these are; Ghana Railway Development Bill, 2018, Occupational Safety and Health Bill,2018, National Commission for Tertiary Education Bill, 2018, Renewable Energy (Amendments) 3111,2018 and Affirmative Action Bill 2018.
The rest are: Creative Arts Blll. 2018, Disability Bill 2018 and Ghana Meteorological Agency (Amendment) Bill, 2018 among others.
According to the statement, there are Five (8) other Bills which are currently at the Committee stage.
These are; Legal Aid Commission Blll,2017, Witness Protection Blll, 2017, Land Bill, 2018
Right to Information Bill,2018 and Legal Profession (Amendment) Bill, 2018.
The rest are: Ghana Integrated Bauxite and Aluminum Authority 2018, Ghana Cocoa Board (Amendment )Bil12017 and Technical Universities (Amendment) Bill 2017.
Also to be presented are Twenty Five (25) instruments of which One (1) are already at the Committee Level.
In addition, Fifty Three (53) Papers will be presented during the Meeting.
There are Four (3) major Motions that have been tabled for Debate and FortyNine (49) referrals of Bills, the statement stated.
Other items on the plate of the House are Ninteen (19) Directives to committees by the Speaker.
Notices of questions to be answered by various sector Ministers will also form part of the Agenda for the 2nd Meeting, Ms. Addo added.
Source: gbc