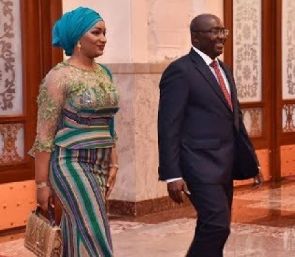 Vice President, Dr Mahamudu Bawumia with wife, Samira Bawumia
Vice President of the Republic, Alhaji Dr Mahamudu Bawumia is expected to return to Ghana from the United Kingdom (UK) latest by Friday, February 2, 2018, Minister of State in -charge- of National Security, Bryan Acheampong has revealed.
The Second gentleman of the land accompanied by his wife, Samira, left Ghana on Friday, 19th January 2018, for the United Kingdom for medical leave, on the advice of his doctors.
The Presidency had earlier on that Friday announced that the Vice President, on the day reported not feeling well and was attended to by his doctors and was in stable condition.
There was mixed reactions on social media about the decision to go public that the Vice President had taken ill. Whereas others think the announcement was right, others are of the view that it was needless.
Some sympathizers of the opposition National Democratic Congress took to social media to speculate about the health of the Vice President. Some other mischievous persons even went to the extent of circulating a photoshoped autopsy report claiming he had died.
But on Saturday, January 27, photos emerged of a hale and hearty Dr. Mahamudu Bawumia and his wife, Samira spotted on the streets of London where he had been on medical leave for the past one week.
Speaking exclusively to newsmen on  Monday, Hon. Bryan Acheampong stated that Dr Bawumia's stay in London has gone well as planned, and once he's gained back his his health, he'll back in Ghana by close of this week.
"He's not in the hospital as some have speculated. He's doing very well with his wife and I'm assuring you that by close of Friday, God willing Vice President Dr Mahamudu Bawumia will be in Ghana for us all to see how he's doing."
Source: kasapafmonline.com