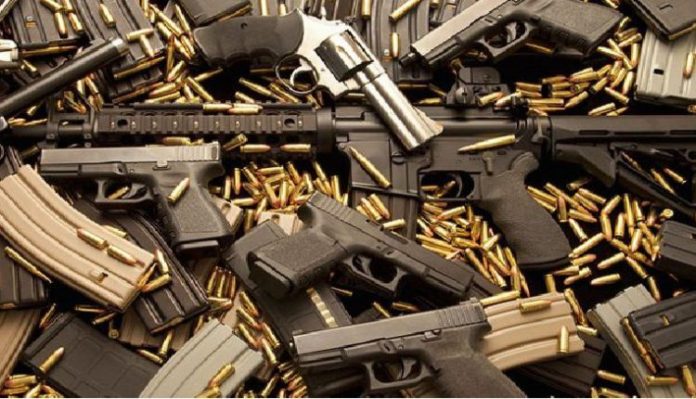 The 3 suspects according to the police gave out these guns to interested persons upon request
Three people are in the grips of the Police in Kasoa for illegally possessing and trading arms in the area.
The three, Mawuli Adokokye, 28, Obed Wood, 37 and Jeffrey Tetteh, 38, according to the police have been hiring and selling the said arms to criminals in the area to foment trouble.
The three according to police checks are the kingpins behind some of the robberies in the area as they make available the weapons to criminals who mostly utilise them in robbery activities.
Narrating their arrest to Starr News' Central regional correspondent Kwaku Baah-Acheamfour, the Kasoa Divisional Police Commander ACP Dennis Abade explained that they received information on the nefarious activities of the three from an informant with the police making the informant feign interest in acquiring some of the pistols from the three which they obliged to the deal.
The police, he said laid ambush at the transaction site at Nyanyano and in the process of handing the guns to the informant, the police clamped down on the suspects taking possession of the said guns and cartridges.
The three, he said will be arraigned soon before court to be remanded into police custody so that the police could investigate further the circumstances leading to their possession of those weapons and even if they have cache of it hiding somewhere else.
He appealed to residents to volunteer information to the police leading to the arrest of such miscreants so that the place becomes safer for all to live and do their businesses as criminals are dangerous elements who shouldn't be entertained in every society.
Source: Starrfmonline.com