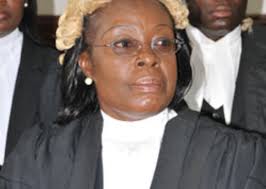 Attorney-General Gloria Akuffo has said former COCOBOD CEO Dr. Stephen Opuni could be sentenced to 25 years in prison for collecting a bribe if found guilty.
Dr. Opuni who is accused of collecting 25,000 cedis bribe faces 26 other charges including causing financial loss to the state.
The state says it has established that Seidu Agongo deposited an amount of 25,000 cedis into the account of Dr. Stephen Kwabena Opuni to influence the award of contracts.
On the first day of the trial at the Accra High Court, Samuel Cudjoe, legal counsel for the former COCOBOD boss applied for bail for his client.
Making his case, he argued the state's claim of bribery amounts to a misdemeanor which attracts a bail for his client.
The Attorney-General who was in court to handle the state's case did not oppose the bail application.
She, however, reminded her opposing counsel that bribery attracts 25 years imprisonment and is not a misdemeanor.
She asked that bail should be set commiserate with the 25,000 cedis bribery allegation.
Source: Myjoyonline.com