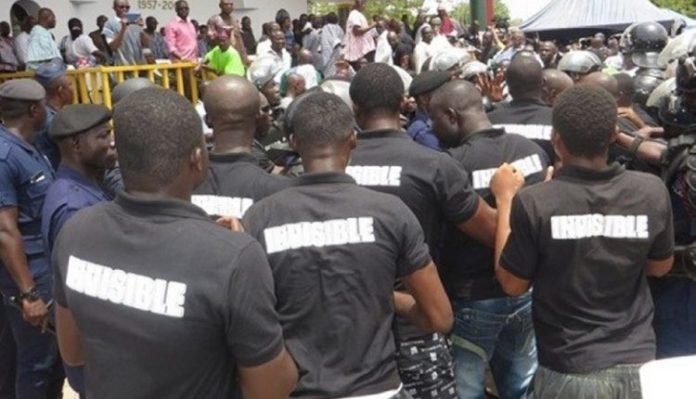 Some National Security Operatives and alleged Invincible Forces of the NPP are believed to have forcibly taken over the UNDP flats at Cantonments after abusing and assaulting the contractor of the redevelopment project.
The group, led by two National Security Operatives are occupying the flats illegally with the justification that their party is in power bringing all redevelopment works by the contractor to an abrupt halt.
GHONE News investigations revealed that the National Security operatives and Invincible Forces members are currently occupying the UNDP flats at Cantonments under redevelopment by a contractor.
The contractor of the project is alleged to have been physically assaulted by the two groups bringing the redevelopment project to a total halt.
A visit to the facility saw some artisans who allegedly broke into the site with the aid of the alleged National Security Operatives reconstructing portions of the UNDP flats.
When the Contractor of the project approached them to inquire on whose authority they were carrying out the activity, they claimed that they were instructed by a top government official at the Ministry of Works and Housing to carry out their work.
The Contractor explained to GHONE News that he was kicked and slapped severally by two groups.
He added, he received several death threats from the group.
GHONE News investigations revealed that several attempts made by the Works and Housing Ministry to evict the alleged National Security forces from the site have proved futile.
Already some of the alleged Security Operatives have been living in the UNDP flats since 2017 without paying a penny to government.The apartments are currently rented for $500 and $650.
According to the Contractor, the price will be increased to $1,500 and $2,000 for the two and three bedrooms respectively after the redevelopment works.
A tour around the facility indicated, the sewage system of the building had been destroyed, while structural cracks have developed at some portions.
The UNDP flats is home to several expatriates and government functionaries.
Some Cuban doctors working with the Ministry of Health living in the UNDP flats had to evacuate the apartment because of the behaviour of the alleged invincible forces.
Both indigenous residents and expatriates who are occupying the flat say they are not safe.
Attempts to speak to some of them proved futile as many were afraid they will be the targets of attacks and abuse from the alleged group.
The contractor confirmed to GHONE News that 30 percent of the amount used in undertaking the project had been paid to him by government in December 2016, but the interference by the alleged National Security Operatives has affected construction works.
The UNDP flats was built in 1960. The initial arrangement was to rent the flats to expatriates to generate revenue for government but according to the contractor the building has not seen any major rehabilitation works until the contract was awarded to him in 2016.
Source: GHOne News