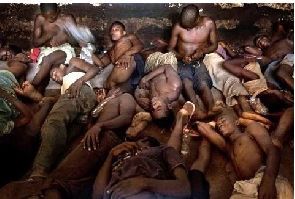 A prisoner in the Kumasi Central Prisons has stated that, selling of marijuana, popularly known as 'weed' is common in the prisons across the country.
He passed the comment while speaking in an interview with Kumasi based radio station Abusua FM that the inmates of the prisons buy the substance as if it were vegetables on sales in the market place.
He said, "Sometimes I ask myself why should someone be arrested and jailed for smoking one roll of 'Wee' while when you go to some prisons in Ghana especially Kumasi Central Prison, Wee smoking is legal?. My brother I will not lie to you, I have been in prison for the past 4 years and they sell 'wee' like they are selling vegetables in Central market".
He believes that, arresting people who smoke the substance in town and imprisoning them was not necessary since it was smoked legally in the prisons.
Speaking to the press, the ASP Richard Bukari, the Public Relation Officer (PRO) of the Kumasi Central Prison affirmed the sayings of the prisoner adding that, they get access to the substance when they step out to work.
He also added that some supervisors play a part in ensuring that the inmates acquire the substance.
The prisoner also said that the items which are donated to them by NGOs, churches, groups and philantropists do not reach them.
"We don't remember the last time we were served milk, sugar, cowbell coffee, cooking oil etc but always people donate to us. We will only eat porridge with sugar and milk when visitors are coming and even that one is once a year. We are suffering too much because of the kind of treatment we are going through".
Mr Bukari has however debunked the claims.
Source: