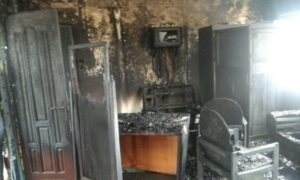 Disaster looms as justice delivery at the Kumasi Circuit Court 3 suffers because the building housing the court has become a death trap.
The top floor of the judges' chamber that was hit by a fire incident eight months ago remains in disrepair.
A leaking roof compels authorities to end proceedings abruptly each time it rains.
Judges virtually work in their cars in order to protect vital documents on cases.
The walls of the Circuit Court 3 keeps soaking up and weakening with each rainy day as water seeps through the concrete overlay into the courtroom, including the judge's sitting area.
The Ashanti Regional branch of the Ghana Bar Association wants the problem fixed before the unexpected happens.
The Judicial Service Administration will not comment on the issue.
Checks, however, indicate several letters drawing attention to the estate office have yielded no desired results.
SOURCE ;  JOY FM