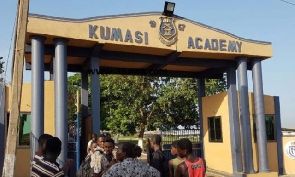 The Ashanti Regional Director of Ghana Health Service, Dr. Emmanuel Tenkorang has appealed to the public to welcome students of Kumasi Academy (KUMACA) with open arms stop the stigmatization and discrimination against them because of their H1N1 influenza Type A, known as swine flu during the Christmas.
He said shunning them will make them feel isolated from the society and all the efforts aimed at improving their psychological trauma would be a farce, which can affect their academics negatively.
In an interview with Otec news, Dr. Tenkorang expressed his worry that after the death of the students who died of swine flu, some people have started stigmatizing them, believing they (people) will be infested with the virus, saying, all the students are clean and healthy.
Four students have died and a total of 85 students of the Kumasi Academy were affected with the H1N1 influenza Type A virus, popularly known as swine flu virus since November 30, 2017.
Health officials have announced at a news conference that the outbreak has been contained to prevent further spread.
"Now there is no problem in the school, every student is in a good health, we have discharged all the students from the hospital except five students. The students have complained that some people have started distancing themselves from them whenever they go out to town with their uniforms, but please am appealing to the public to stop that because it won't help the students psychologically," he appealed.
He bemoaned that if the public continues to stigmatize the students and the school, the school will lose its image and final collapse which will have a toll in the educational delivery in the college.
"We shouldn't stigmatize the school and the students else the fighting of the disease will be difficult. If that continues it means nobody will send his or her ward to the school, eventually collapsing it. We all know the part KUMACA has played in our education system since we all have to protect the school and the students," he said
Dr. Tinkorang assured that after that the five day incubation period, no student has fallen sick of the disease which according to him, it shows a good sign of the free virus in the school.
"I can assure that no student of KUMACA is infected with the disease now, for the past five days no KUMACA student has been to the hospital so there is no cause for alarm. So when we see them you shouldn't run away,'' he assured.
Source: otecfmghana.com/ Kwaku Anane Jnr