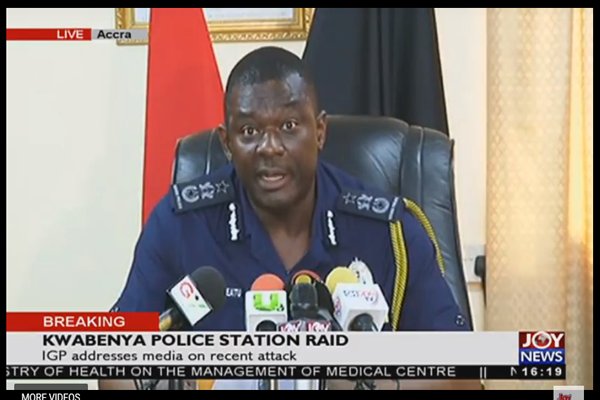 The Police say eight persons have been arrested in connection with the murder of two police officers in the last seven months.
Three suspects picked up in relation to the killing of Inspector Emmanuel Ashilevi at the recent Kwabenya jailbreak while five other fugitives are connected to the killing of Constable Daniel Owusu in July 2017.
In the Kwabenya killing, a 28-year old woman Nancy Bentaah alias Awurama and George Yeboah Akarh also known as Kwasi Shower, have been picked up in the gang attack at the police cell over the weekend at Kwabenya in Accra. 
The gang also freed seven inmates who are still on the run.
According to the Inspector General of Police, David Asante-Apeatu, in the last 24 hours, one more suspect, a 32-year-old Nana Owuah who is believed to be the spiritual father of the other two have been arrested.
He is suspected to be the supplier of deadly weapons used by the suspected criminals in the Sunday dawn attack.
犀利士
rgin: 0in;margin-bottom: .0001pt;vertical-align: baseline"> 
The IGP said coffins and skeletons were found at the place of arrest.
Describing the Sunday attack as an "awful and unforgettable day", COP Asante-Apeatu asked the public to help the police administration with information leading to the arrest and prosecution of the cop killers.
The service has placed a ¢15,000 bounty on the Kwabenya case.
In the Lapaz incident, the IGP revealed the five suspects picked up include Benjamin Nii Lamptey, 27; Lialah Mohammed, 20;  Musah Ibrahim, 37; Kassim and Abbas Abdullai.
In an unusual move, the IGP was the one who released the names of the suspects at a live press conference as he tries to assure the public they are safe. 
 Source: myjoy