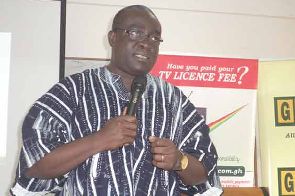 The Ghana Broadcasting Corporation (GBC) is admonishing the general public to pay up their TV license in order to help them pay royalties owed the Ghana Music Rights Organisation (GHAMRO).
The Deputy Director of Finance and Head of TV License Unit at GBC, Rev. Ebenezer Botwi noted that the state broadcaster's indebtedness to GHAMRO is due to the unavailability of funds.
It was recently reported that GHAMRO was dragging the state broadcaster to court over its failure to pay royalties for the past five years.
Amongst other things, the music rights body is hoping that court compels GBC to pay 5% of revenue earned from the use, communication and/or performance of musical works to the public for 2014, 2015, 2016, and 2017, via GTV, GTV24 and other affiliates.
As many more TV users are refusing to pay the mandatory TV license being demanded by the state broadcaster, Mr Botwi, speaking to Andy Dosty on Daybreak Hitz, insists these monies are needed for purposes such as paying for GHAMRO royalties.
"That is the more reason why people should pay their TV license. That is why we are hot, going to court, so we can get money to pay them," he said.
According to the Rev Botwi, GBC owes other commercial service providers such as the Electricity Company of Ghana (ECG), thus the desperation to collect the license fees.
"It is not GHAMRO I owe, I owe a lot of people, that is why you need to pay your TV License, so that GBC is not liquidated," he added.
Source: Myjoyonline.com