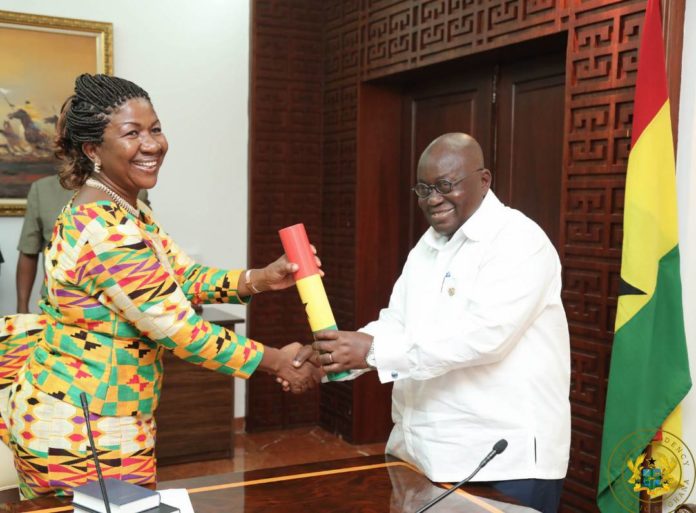 The President of the Republic, Nana AddoDankwa Akufo-Addo, has presented letters of credence to Ghana's High Commissioner to Malaysia, AkuaSakyiwaAhenkorah, at a brief ceremony at the Flagstaff House, on Wednesday, 10th January, 2018.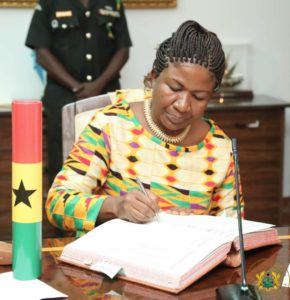 In his remarks, after the swearing-in ceremony, President Akufo-Addo noted that AkuaSakyiwaAhenkorah, a career diplomat, who becomes Ghana's first female High Commissioner to Malaysia, is deserving of the appointment and eminently qualified to represent Ghana.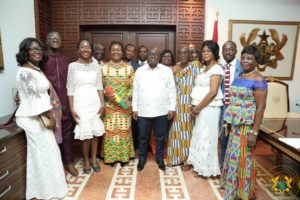 The President, thus, reminded the High Commissioner of the fact that "the image of our country is high in the comity of nations, and Ghana is a considered a beacon of stability and democracy on the continent of Africa and beyond. It is an image that you have to do everything possible to guard and uphold".
It will be recalled that Ghana attained independence at the same time as Malaysia, however, Malaysia has chalked remarkable economic successes over the period.
The President recalled the historical account of Malaysia "procuring her first palm kennel seedlings from Ghana. But, today, this crop has become the main-stay of that country's economy, producing millions of tons of palm oil annually", whereas Ghana has not gained much from the cash crop.
It is in line with the President's vision of a "Ghana Beyond Aid" that he urged AkuaSakyiwaAhenkorah to be focused on her mandate, maintain a cordial working relationship with her staff and the Ghanaian community, as well as secure investment into Ghana.
In her acceptance remarks, Madam AfuaSakyiwaAhenkora thanked the President for the great honour done her, and assured him of her "determination to justify the decision by Government to enhance the involvement of women in the development of this country".
She promised to deliver on her "mandate in achieving the overall government objective of improving the well-being of the good people of Ghana".
The High Commissioner assured the President of her "responsibility to drive private sector investments into Ghana to help in achieving the government's flagship programmes of One-District-One-Factory, One-Village-One-Dam, Planting for Food and Jobs; and the overall objective of developing Ghana Beyond Aid".
She further promised to "safeguard, protect and promote the image and interest of Ghana at all times", adding that she will strengthen the already cordial relations not only between Ghana and Malaysia, but also with the countries of concurrent accreditations such as Brunei Darussalam, Thailand, Indonesia and the Philippines; and also explore areas of effective cooperation".
AkuaAhenkorah thanked the President for "the great honour" done her by "this appointment as High Commissioner of Ghana to Malaysia", and expressed her gratitude for the confidence reposed in her, and assured the President of her "loyalty to the government and people of Ghana" in the discharge of her duties.
Present at the ceremony were the Chief of Staff, Hon. AkosuaFremaOseiOpare; Minister for Foreign Minister, Shirley AyorkorBotwey; Deputy Minister for Foreign Affairs, Charles Owiredu; officials of the Presidency and Foreign Ministry, and family of the High Commissioner.
Source: otecfmghana.com/ Eric Asamoh Protocol