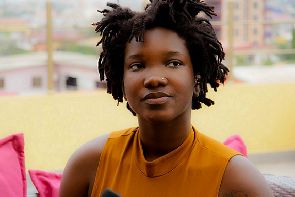 The Family Members of the late Priscilla Opoku Kwarteng, known in showbiz as Ebony have revealed that her one-week celebration will come off on Sunday, 18th February 2018 in Accra.
According to them, the date for her funeral rite will come to the public domain on the said date.
The family of both sides of the family (the father and the mother) unanimously stated that Ebony final funeral rite would be held in Accra but would be buried in Bechem in the BrongAhafo Region.
They made this revelation on Monday, February 12, 2018, when the family members met at the family house in Bechem.
Ebony was on board a Jeep with registration AS 497-16, traveling from Sunyani to Kumasi when her vehicle collided with a VIP bus from the opposite direction, leading to her untimely death.
She died with two other persons, a military officer identified as Lance Corporal Francis AtsuVondee and a lady identified only as Frankie.
Otecfm's reporter, Osuodumgya Nana KwadwoKumi reported that the father of the late Ghanaian Artiste, Nana OpokuKwarteng was absent from the meeting which created a heated argument between the family Members of the Mother and the Father but by the intervention of the GHAMRO members who were present at the meeting they were able to resolve the problem amicably.
Source: otecfmghana.com/ Kwaku Anane Jnr