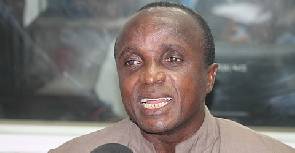 The incarcerated former boss of GYEEDA, Hon. Abuga Pele finds it unfathomable why the National Democratic Congress would maroon him and throw its weight behind under-fire former Chief Executive Ofgicer of COCOBOD, Dr. Stephen Opuni.
Mr. Abuga Pele cannot understand why the party he laboured for for many years would choose to abandon him in his trying times but solidly support Dr. Opuni in the face of the 27 charges levelled against him and two others.
What makes him pained is the fact that those who have publicly expressed their desires to have him released should the NDC come back to power, have been vehemently lambasted by the party, but the same party is lacing its boots to stand with Dr. Opuni.
The National Organizer of the opposition National Democratic Congress in a radio interview has stated that the party is solidly behind Dr. Opuni, and would do everything humanly possible to ensure that the party doesn't leave him to fight his battles alone.
Kofi Adams had this to say on Neat FM's morning show, Ghana Montie;
"The NDC will stand by Dr. Opuni to fight cooked charges levelled against him by the NPP. We (NDC) won't allow them (NPP) to go ahead with their scheme to destroy the man (Opuni)"
Sources close to the jailed former MP have disclosed that the statement from the party through the National Organizer has saddened Mr. Abuga Pele who believes his unflinching loyalty to the NDC over the years has been ungratefully rewarded.
Tears welled up in the eyes of Abuga Pele as he recounted his dedication and service to the opposition party, according to the sources.
What is more than obvious is the fact that the support the party intends lending to Opuni is not without a cause. Dr. Opuni lived like an Arabian king when he was at the helm of affairs at COCOBOD. It is believed that he had cash to burn, and would lavishly spend some on the party and its gurus.
Abuga Pele pales into insignificance when compared to Opuni in terms of wealth, and that has formed the basis upon which the entire party machinery would decide to support him in these trying times. They can still wheedle something out of him even at this time.
Abuga Pele, it is very obvious, is being neglected because he has no cash to give to the party NDC unlike Opuni whose opulent lifestyle depicts someone with more cash than he needs.
Abuga Pele could shed so much tears over this betrayal of the very party he has sacrificed his life for, it would amount to nothing since he appears to be a forgotten hero.
Source: otecfmghana.com/ P.K.Sarpong,  Writer at the Communications Bureau