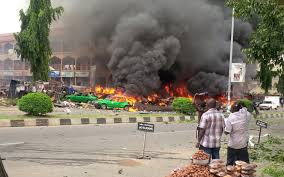 Gunfire and an explosion have been heard near the army headquarters and the French embassy in the capital of Burkina Faso, Ouagadougou.
Witnesses have reported seeing armed men getting out of a car and opening fire.
Pictures from the scene showed a cloud of black smoke rising into the sky. It is not yet clear who is behind the attack.
"An attack is under way," the French ambassador tweeted.
The national police have issued a statement saying special forces are in action.
The US embassy in the city has advised people to seek shelter.
The West African country also saw a failed coup in 2015. The trial for dozens of the alleged perpetrators began earlier this week but was suspended after defence lawyers walked out in protest against the military court.
Ouagadougou has also suffered two major attacks by Islamist militants in the last two years.
Source: bbc