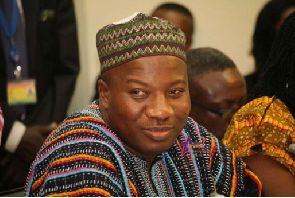 The Bawku Central Member of Parliament, Mahama Ayariga, has sued the Akufo-Addo administration at the Supreme Court over the implementation of some of its key initiatives such as the Infrastructure for Poverty Eradication Programme (IPEP), Free Senior High School, Planting for Food and Jobs, the Microfinance and Small Loans Center (MASLOC) and others.
Mr. Ayariga is arguing that the government failed to submit operational modalities for the policy framework of the of these programmes to Parliament. He thus wants the court to compel either the President or the relevant minister to present the pertinent legislation and regulations to Parliament.
His lawsuit notes that he is seeking "an order of mandamus compelling the President or his assigned Ministers to bring to Parliament appropriate legislation establishing the institutions or agencies to implement the said initiatives.
According to the lawsuit, the MP will also be seeking "An interim order of injunction restraining the President or his agents from implementing the initiatives until such time as the appropriate institutions for implementation are enacted by Parliament and the appropriate regulations to govern the implementation of the said initiatives are also approved by Parliament."
Speaking on OTEC FM'S NYANSAPO progragramme on Thursday March 22,2018, Mr. Ayariga said he would Call for the annulment of all modules and contracts entered into by the National Youth Employment Authority that are not founded on approved regulations passed by Parliament, including the annulment of all of Zoomlion's contracts with the agency.
Hon Ayariga revealed that he will demand that the GETFund should award no scholarships. He said he will also Demand that the Micro Finance and Small Loans Centre (MASLCOC) must cease operating.
Demand that the Presidency no longer grants international scholarships through the Scholarship Secretariat.