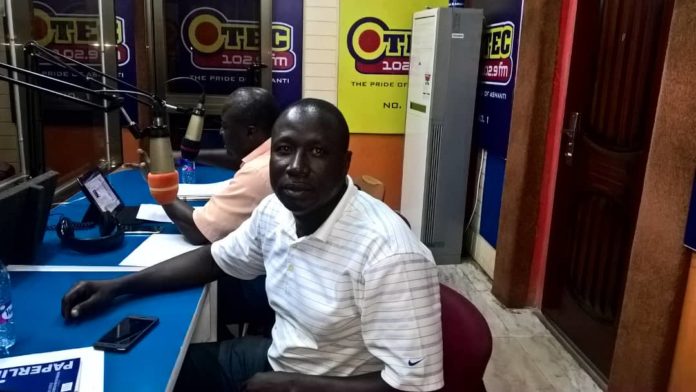 An Educationist and Economic tutor at Kumasi Anglican SHS,  Mr. Kwabena Nkatiah has raised concerns over the quality of some police personnel recruited into the Ghana Police Service as well as other security agencies.
He said political interference in the recruitment process is hurting the quality of personnel recruited into security services.
Mr Kwabena Nkatiah raised these concerns during panel discussion segment on OTEC FM'S NYANSAPO flagship programme on the issue of three police officers stationed at Weija District police command have been arrested by the Greater Accra regional police command, Anti-robbery squad for allegedly hiring AK47 rifle to arm robbers for robbery.
The Inspector General of Police (IGP) directed that three police officers who are alleged to have sold an AK47 rifle to a civilian at Weija be interdicted.
Sergeant Stanley Mensah, Corporal Emanuel Takyi of Weija Police Station and Corporal Simon Osei of the Rapid Deployment Force are the officers facing the interdiction.
If at all they want to provide jobs for their supporters, Mr Kwabena Nkatiah does not understand why the choice of the politicians will be the school dropouts.
He questioned if the police service is not deserving of high-quality personnel as demanded by other organizations.
Mr. Kwabeba Nkatiah who also the Author of Positive Economics told the Programm's host, Captain Koda,  on Wednesday, April 25, 2018, that it is so sad that some do not even know how to write their names and would need to thumbprint when they go to the bank.
Source: otecfmghana.com/