Uncategorized
Government to pay workers per hours worked – Kusi Boafo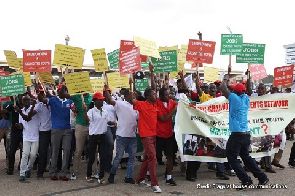 Government will soon launch a policy that will see public servants paid strictly according to the number of hours they work.
According to the CEO of Public Sector Reforms, the implementation of the new strategy will lead to the automation of the public service in order to ensure efficiency and productivity.
This comes days after some drivers of the Metro Mass Transit were suspended after they came to work late. Some staff of the Controller and Accountant General were held up on Thursday for reporting late to the office.
The CEO of Public Sector Reforms, Mr Kusi Boafo has said the new policy which will be launched by President Akufo Addo in May this year will eventually ensure that Civil Servants are paid per the number of hours they work.
"We are no longer going to entertain absenteeism and for that matter very soon we'll send circular to all workers. A new public sector reform strategic document has been okayed by government, very soon it will be launched by the President. Very soon, time clocking system will be set in place and we're going to automate the whole system.
"Let me tell you for a fact, in the coming years people will be paid according to the number of hours they sit and stay effectively at the workplace so at the end of the month it's not a matter of you're going to be paid ordinarily like we've been doing over the years," Mr Kusi Boafo told Joy FM.
Source: kasapafmonline