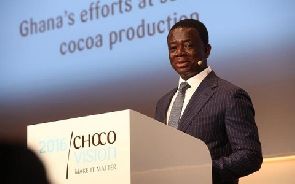 Former COCOBOD Chief Executive Officer, Stephen Opuni, has through his lawyers filed a motion at the High Court seeking to be granted copies of documents prosecutors will rely on to prove their case against him.
In the motion, which was sighted by citinewsroom.com, he said "I also do not have copies of any of the letters and or documents mentioned and or referred to by the Prosecution in the facts."
The Attorney General last month filed some 27 charges against Dr. Opuni and a businessman, Seidu Agongo, including a charge of willfully causing financial loss to the state in a fraudulent fertilizer contract worth over GH¢43 million.
At the first hearing of the case, Dr. Opuni pleaded not guilty to all the charges leveled against him.
But in a bid to present a factual defence, he is requesting all the documents the prosecution will be relying on to prove him guilty.
"I am entitled as of right to all facilities which the prosecution intends to use at the trial. This is to enable myself and my Counsel prepare for the trial."
"…I have been further advised by Counsel and verily believe same to be true that on a true and proper interpretation of Article 19(2) (e) and (g) of the 1992 Constitution, I am entitled as of right to copies of all including the contracts and numerous letters referred to by the Prosecution," portions of the motion read.
In all, he is seeking to access to about 13 prosecution documents including the contract for the procurement of fertilizers entered into by COCOBOD between 2008 and 2017.
Meanwhile, Dr. Opuni, who was admitted to a bail sum of GHS 300,000 is expected to reappear in court on Wednesday April 11, 2018.
Source: citi