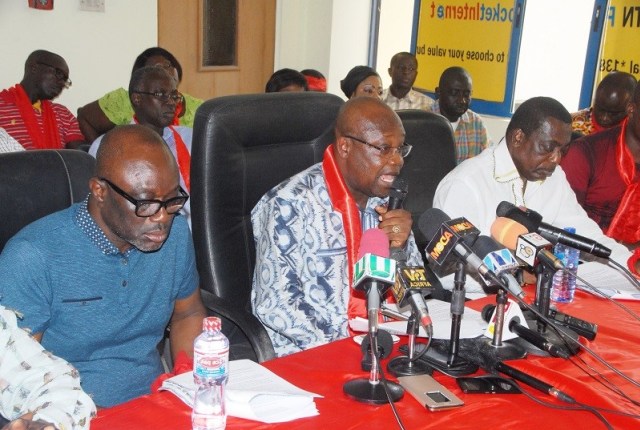 The Ghana Union Traders Association (GUTA) has given government one week to enforce laws barring foreigners from engaging in retail trade in the country.
At a press conference, the leadership of the Association said they are at their wit's end and will no longer sit unconcerned for their jobs to be taken away from them.
GUTA has threatened to take further action if nothing is done about the situation within the given time frame.
"We hereby issue an ultimatum of one week to the government to ensure that all state institutions responsible for the enforcement of our laws on retail trade by foreigners in the country, are implemented to the letter as it is done in all sovereign states to bring peace and its attendant security," Vice President of GUTA, Patrick Osei Brogya, said.
Last week, angry members of the Association locked up about 52 shops belonging to foreigners at the Opera Square in Accra.
Storming the Central Business District, they again – like they have been doing in the past months – called on the government to enforce the law that prevents foreigners from engaging in retail businesses in Ghana.
The traders, interacting with Joy Business, explained that "we are taking the law into their hands, especially when government has failed us."
Matilda in her report said the shops are being opened but the foreigners have been told by GUTA to pack out or hand over their shops to Ghanaians or risk their wrath.
While that is being done, GUTA wants government to start enforcing the laws which reserve retail trade for only Ghanaians.
"Each time we embarked on an action to enforce the law, state authorities plead with us to stop so that they would carry it out, but they eventually go back to sleep on the job.
"We are now at our wits end and can no longer endure suffering as slaved in our own country while foreigners flout our law with impunity," Mr Brogya noted.
GUTA says if it does not see any action by the authorities to decisively deal with the situation, they will advise themselves on the next line of action which will be staged nationwide.
"Enough is enough. This is our message and we believe that it will not fall on deaf ears if indeed, we have listening authorities who think of the well-being of the citizens of Ghana."
Source: Myjoy