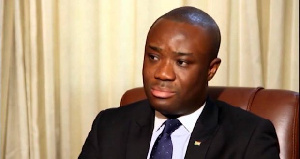 Former deputy Information Minister Felix Ofosu Kwakye has described vice president, Dr. Mahamudu Bawumia's claim that electricity tariffs had never been reduced before Akufo-Addo's administration as false.
His reaction follows Dr. Bawumia's address at the Kumasi Town Hall meeting today. According to Ofosu Kwakye "the vice president has told several outright lies in the last few minutes. His claim that electricity tariffs had never been reduced before Akufo-Addo is a lie", he said.
The former deputy Information Minister took to Twitter and referenced six years ago, when President John Dramani Mahama was commended for an initiative which reduced the heavily criticized electricity tariff by 25 per cent.
The referenced information said the tariff lowering even though would have caused the Mahama-led government a great deal, it won the hearts of Ghanaians and leaders of labour groups rescinded an industrial action threat.
On his part, the vice president, while addressing the Kumasi Town Hall Meeting today, said "in 2018, we reduced electricity prices by 22%.
By the way, this is the first government in the history of the fourth republic that has reduced electricity prices.
"In 2019, we increased the prices by 11% but when you take the period between 2018 and 2019, in net terms, we've reduced electricity by 10%. This has not been done before by any government in the fourth republic and therefore it is a promise we have fulfilled, Dr. Bawumia noted.
Vice President Dr. Mahamadu Bawumia headlining the first government town hall meeting for 2020 in Kumasi outlined with data evidence the Akufo-Addo administration's achievements in three years.
Source: Ghana/otecfmghana.com