Politics
Ejisu MP presents 1,400 bags of rice to constituents to ease coronavirus disruptions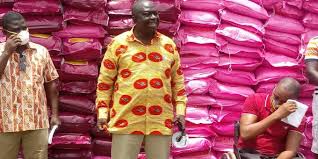 Member of Parliament for Ejisu Constituency in the Ashanti Region, Kwabena Owusu Aduomi, has presented 1,400 bags of rice to support the vulnerable in the Ejisu constituency.
The items worth GHS300,000 are meant for the vulnerable in the various communities in the Ejisu area.
Mr Owusu Aduomi says the initiative is to augment government effort to alleviate the pressure on the vulnerable to survive in this difficult times.
"Government has tried to support the vulnerable with food items. I believe it is also my responsibility to also make sure that my constituents are also given the support for onward distribution to the various communities," he said.
Distribution
There have been concerns about the manner of distribution of food items that had caused stampede and disregarded the social distancing being preached.
But Mr Aduomi says the Unit Committee members with support from the community leadership will distribute to the homes of the beneficiaries.
"i know it is not all that may get , but i know the Unit committee, Assembly members and Chiefs will do the distribution to those who are really in need will need will get these items."
Advise to constituents
In addition to the health protocols by the Ghana Health Service and Ministry of Health, Mr Aduomi, who is also the deputy roads minister has instituted measures to enhance the education on the disease.
"Corona Virus is very dangerous and i have advised my people to follow and adhere to the health and safety protocols. I will not expect people to forgo the hand-washing".
During the presentation, he stated that "having examined the Covid-19 problem and untold hardship broadly and impartially, saw the need to voluntarily purchase this quantity of rice to augment the government's needy support programs in time like this."
Meanwhile, the MP has also supported various health facilities in the Ejisu Municipality with medical supplies to enhance and facilitate the work of health professionals in the frontline of the Covid-19 fight.
Source: Ghana/otecfmghana.com