Business
Q1 2021: Ofori-Atta asks parliament to approve GHS27.4bn for gov't expenditure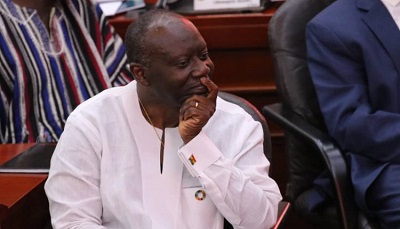 Ghana's Minister of Finance, Mr Ken Ofori-Atta, has asked Parliament to approve GHS27. 4 billion for the country's first quarter expenditure in 2021.
Tabling the request before the legislature on Wednesday, 28 October 2020, Mr Ofori-Atta implored the house to approve, by resolution, "the withdrawal of the sum of GHS27,434,180,520.00 from the Consolidated Fund."
"This is for the purpose of meeting expenditure necessary to carry on the services of the government in respect of the period expiring three months from the beginning of the financial year or on the coming into operation of the Appropriation Act in respect of the 2021 financial year", he said.
The budget, termed Expenditure in Advance of Appropriation, will cover the period January 1, 2021, to March 31, 2021.
The Expenditure in Advance of Appropriation is a standard practice rolled out in election years to prevent transitional challenges in the smooth running of government for the first three months in the year after elections.
The government, in July this year, requested Parliament to approve an additional GHS11.8 billion to support the government's expenditure for the rest of the year 2020.
This was because the government's projections for the 2020 financial year were, according to the Finance Minister, affected by the Coronavirus pandemic.
In the lead-up to the 2016 general elections, the erstwhile Mahama administration in a similar fashion, requested parliamentary approval of GHS10.9 billion to help finance critical government expenditure in the first quarter of 2017.
Source: Class