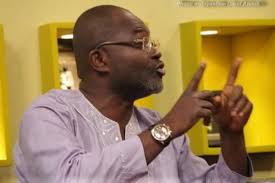 NPP flagbearer hopeful, Kennedy Ohene Agyapong
Kennedy Agyapong, the Assin Central Member of Parliament (MP) and flagbearer hopeful of the New Patriotic Party (NPP), has expressed his dissatisfaction with the attacks from some party officials in the leadup to the flagbearership election.

Agyapong has firmly stated that if these attacks do not cease and he loses the election, he will not participate in the party's campaign for the 2024 General Election. Instead, he plans to relocate to America to enjoy his life.

"I'm telling you, if they continue the way they are going , big no. If they go the way they are going, when I lose, I will go back to America. You say you can win, win without Ken Agyapong.

"Let Adomako Baafi and all those guys go and do the campaign. You think I'm a fool to spend my money for these young guys to insult me? If they stop, fine. If they don't, then count me out," Ken Agyapong emphasized during an interview with Home Radio.

Agyapong maintains that he is prepared to lead the NPP into the 2024 General Election but also makes it clear that he won't see it as a major setback if he doesn't win the flagbearer election.

He firmly believes that if delegates vote for him, he possesses pragmatic solutions to address the numerous challenges faced by Ghanaians.

Among ten aspirants vying for the NPP's flagbearer position, Ken Agyapong is considered one of the three leading contenders ahead of the upcoming polls.