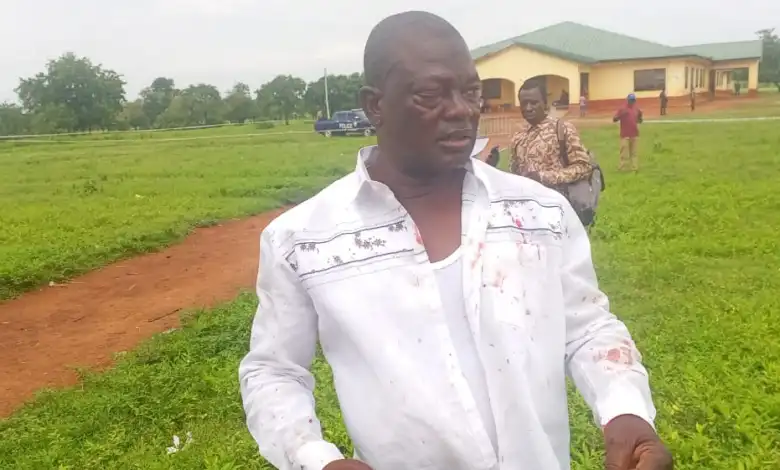 Alan Kyerematen, the governing New Patriotic Party (NPP) presidential aspirant, has condemned the alleged attack on his polling agent in the North East Region on Saturday in the special electoral college election.
Ali Zakaria, the coordinator for Kyerematen in the North East Region, was allegedly assaulted by unknown delegates.
Zakaria was seen bleeding profusely from a cut above his right eye after he was beaten at the Nalerigu Senior High School where voting was taking place.
Kyerematen, who placed third in the poll, said the attack is a blot on the party.
"I would, however, like to express my deep sorrow about the brutal assault on my polling agent in the North East Region," a statement issued by the former trade minister to thank his supporters after the poll said.
"This is an indelible blot on the integrity of the internal democratic process within the NPP. I wish my colleague speedy recovery and God's manifold blessings, and would like to assure him and his family of my unwavering support for his wellbeing."
Below is the full statement: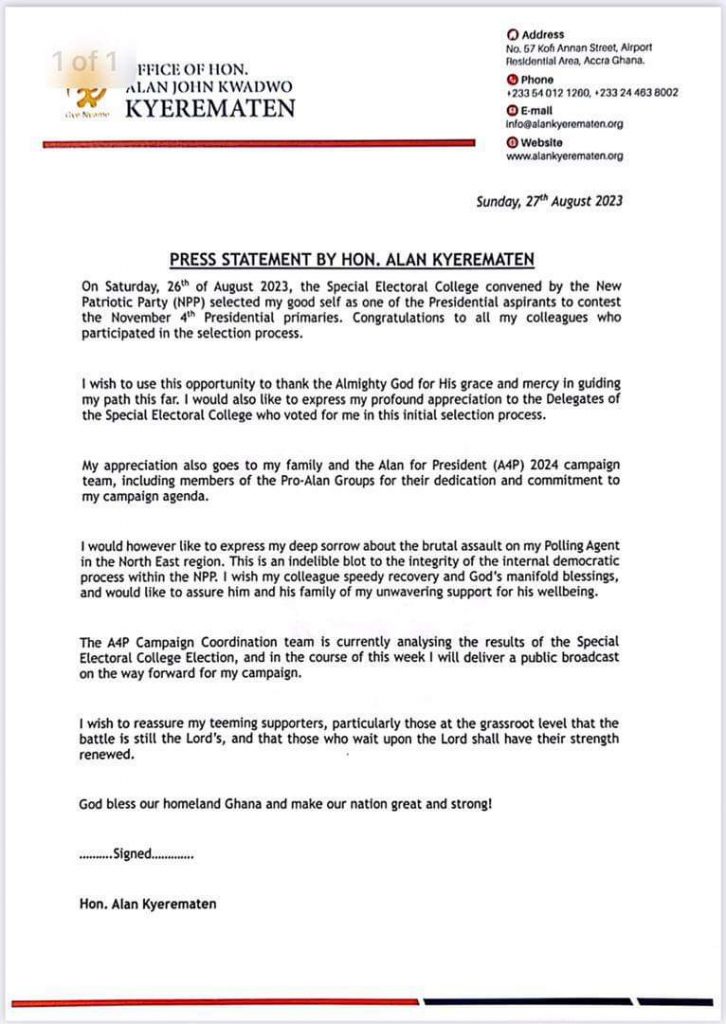 Exaggerated call
Meanwhile, the communications director for the NPP in the North-East Region, Walibe Amos said the attack on Zakaria has been exaggerated.
In a press statement, he dismissed reports that the agent was attacked by supporters of flagbearer aspirant Mahamudu Bawumia.
Walibe explained that the incident was an altercation between the agent in question and the regional youth organiser of the party and not an attack by thugs.
"There was an altercation between the said polling agent of Alan Kyerematen and our regional youth organiser when the agent attempted to prevent the youth organiser from putting his thumb-printed ballot paper into the ballot box. The agent's reason was that our regional youth organiser had shown his vote to bystanders.
"So, he rushed to snatch the thumb-printed ballot paper from the regional youth organiser. The youth organiser resisted him and hit the agent with his elbow leading to the agent falling on the ground," the statement said.
"The hit also caused a cut on the agent's forehead causing him to bleed. People around ran to the scene and held the youth organiser and some also helped the agent to his feet. When we realised he was bleeding, the regional minister and the regional chairman of NPP whisked him away and the regional minister rushed him to the Baptist Medical Center for treatment. He was quickly replaced with another agent and the voting resumed to a successful end," he added.