Business
BOST net profit increases by 112% in 2022, currently at GH₵342m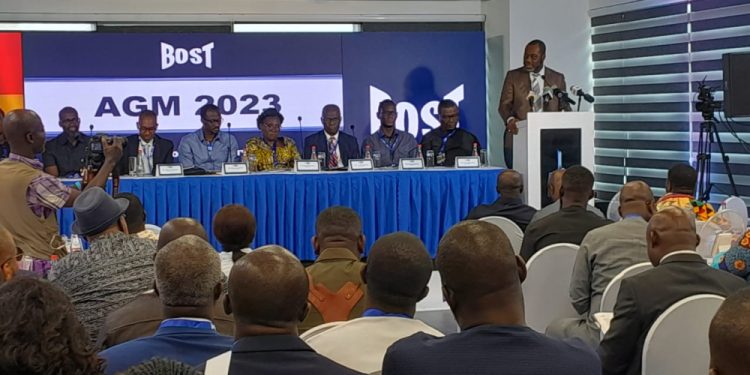 The net profit margin of the Bulk Oil Storage and Transportation Limited Company (BOST) has increased from GH₵161 million in 2021 to GH₵342 million in 2022.
This was disclosed by the board chairman of BOST, Mr Ekow Hackman, during the institution's 2nd annual general meeting held at their office in Accra on Thursday, August 17, 2023.
He said the 2022 net profit is 112% of the amount made in the previous year.
"The transformation that BOST has undergone over the past three years is truly remarkable. The company has been turned from a heavily indebted one to a highly profitable one. In 2022, BOST increased its net profit by 112% to GH₵342 million from GHS161 million in 2021. This performance should be viewed in the context of a miserable run of losses which had been recorded for more than a decade until 2021," he added.
Mr Ekow attributed the achievement to its strategic decision to revamp its business model centrally.
"Central to our transformation has been the restoration of our business model, which involves the effective utilization of our strategically located fuel depots connected by a network of pipelines and barges. The revival of these assets has enabled us to deliver fuel products securely and cost-effectively to consumers across the country. Through the dedicated efforts of our management and workforce, we have significantly increased the revenue-generating assets of the company to 97% from a trough of 34% in 2017. We are committed to ensuring that 100% of our assets are generating revenue by the end of 2023."
He also said the increase in the BOST margin from 7 pesewas to 9 pesewas in December 2022 provided them with the necessary resources to repair and maintain BOST's facilities, many of which are situated in areas where the private sector is absent.
The Minister of Energy, Dr Matthew Opoku Prempeh who also graced the occasion commended the management of BOST for moving the state institution from a debt-ridden firm to profit-making.
"On behalf of the government and the people of Ghana, I would like to express my sincere appreciation to the Board of Directors, Management and staff of BOST. The progress made by BOST exemplifies the path we should continue to follow, and we encourage you to increase the momentum to sustain this performance and strive for even greater heights."
"BOST's success contributes to the fiscal policies of the government and supports our national growth and development agenda. It is my expectation that other State-Owned Enterprises (SOEs) will learn from the BOST story and replicate this performance. This, I believe will ensure that government can effectively execute its flagship programs using revenues generated by its SOES," the Minister added.
He disclosed that government was in the process of revamping the Tema Oil Refinery to enable it complement BOST's efforts by refining products and delivering them for storage and distribution "thereby alleviating the burden of high prices for Ghanaian petroleum consumers."