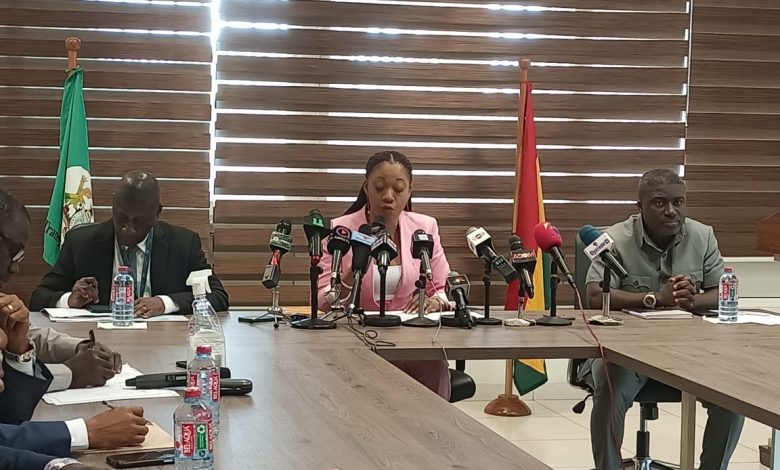 The Electoral Commission ( EC) has set Tuesday, December 19, 2023 for the 2023 District Level Elections (DLE).
The tenure of serving Assembly Members, who were elected in 2019, will expire in December this year, necessitating the election of new Assembly Members for the next four years.
Addressing a press conference in Accra on Thursday, Mrs Jean Mensa, the Chairperson of the Commission, announced that the EC would commence the registration of new voters on September 12, 2023 to October 2, 2023 at its 268 District Offices.
The EC said it had targeted a 60 per cent voter turnout for this year's DLE and appealed to the media to help create awareness and educate the public on the essence of the exercise.
Mrs Mensa said the DLE would be conducted in all 6,272 electoral areas, with the exception of Nkoranza North and Nzoranka South in the Bono East Region.
"This is because the district level elections were not held in 2019 for the said districts due to security reasons but was postponed and conducted in April 2021.
"As such, the elections would not be held in both regions until 2025", the Chairperson explained.
Mrs Mensa said the Commission had prepared a detailed programme of activities for the upcoming DLE, which would be made available to the public in due course.
She encouraged those eligible, but not on the electoral roll to register in the upcoming registration exercise to be able to vote in the December 19 elections.
Mrs Mensa assured that the upcoming voter registration exercise would not be the only registration exercise before the 2024 General Election.
Touching on persons, who had lost their voters ID cards, she said lost cards could also be replaced at all the District Registration Centres at GHC10.
"We state categorically that persons, who have lost their ID card do not need to register again. They simply have to request for a replacement of their cards," Mrs Mensa said.
Mr Samuel Tettey, the Deputy Chairman of the EC in Charge of Operations, said the Commission would take steps to ensure high voter participation in the DLE.
"There will be stakeholder engagements with the civil society, security agencies, faith based organisations and a massive awareness in the media and public announcements by district electoral officers," he said.
In the last District Level Elections in 2019, 57,000 candidates contested in the 6,700 electoral areas across the country.
The DLE has since the late 1980s recorded low voter turnout. Data from the EC indicate that in 1988/89, the National Average Voter Turnout at the DLE was – 59.3 per cent; in 1994, it was 29.3 per cent; 1998, 41.6 per cent; 2002, 33.1 per cent; 2006, 39.3 per cent; 2010, 35.5 per cent; 2015, 30.6 per cent, and 2019, 33 per cent.