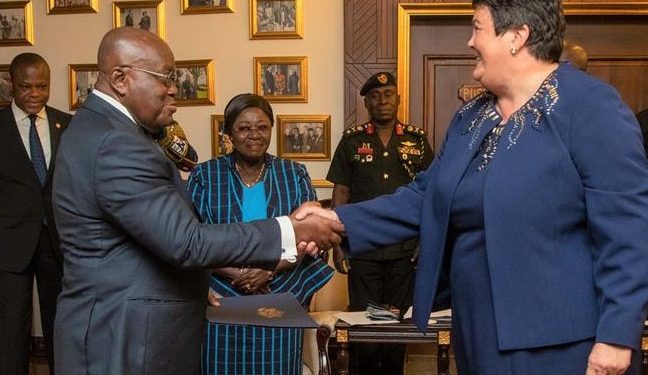 The US Ambassador to Ghana, Virginia Palmer, has warned that the passage of the Anti-LGBTQ+ law could affect trade and investment in the country.
Ambassador Palmer said that while a number of American companies are preparing to invest in Ghana, any law that discriminates against LGBTQ+ people could hurt the country's reputation and make it less attractive to investors.
Speaking to journalists in Accra, Ambassador Palmer said: "Lots of ethnic communities make Ghana strong, stable, and attractive for investments. I hope it stays that way with regard to the LGBTQ community. They should be managed to be made the colour of the money green or red if it's Ghanaian, but if it is discrimination, then that will send a signal not to [only] LGBTQ investors and exporters but to other American companies. Then Ghana will be less welcoming…so I hope it stays that welcoming," the US Ambassador to Ghana Virginia Palmer said.
The Anti-LGBTQ+ Bill, which is currently under consideration by Parliament, aims to criminalize LGBTQ+ activities, prohibit the promotion and advocacy of LGBTQ+ content, and provide protection and support for children and individuals involved in LGBTQ+ issues.
The Supreme Court of Ghana dismissed an application in July 2023 seeking to injunct the Speaker of Parliament, Alban Bagbin, from continuing with the consideration of the bill.
The application was filed by a researcher named Dr. Amanda Odoi, who argued that the ongoing consideration of the bill is a breach of Article 108 of the 1992 Constitution.
Article 108 of the Constitution stipulates that no bill or motion shall be considered by Parliament if, in the opinion of the person presiding, the bill is to impose taxation, or impose a charge on the consolidated fund or other public funds unless it is introduced by the president.
It is the contention of the applicant that the bill considered in its entirety will impose a charge on the consolidated funded and offends the 1992 Constitution as it is a private members bill.
This legal action adds to the ongoing debate and controversy surrounding the anti-LGBTQ+ bill, with stakeholders expressing differing opinions on the proposed legislation.