Education
Featured
Local News
Zipline Ghana, Ministry of Defense to partner Afia Kobi Girls SHS to manufacture drones for Ghana- Dr Adutwum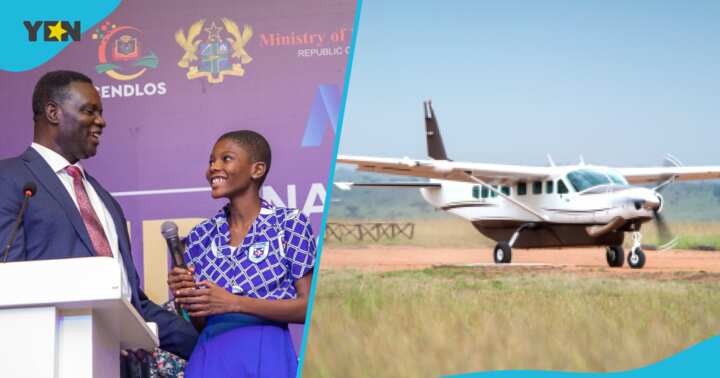 One of the leading Drone Companies in Ghana, Zipline Ghana, and the Ministry of Defense have approached the Ministry of Education to partner Afia Kobi Girls SHS for the manufacturing of drones in Ghana.
The Minister of Education, Dr Osei Yaw Adutwum who revealed this also disclosed that, University of Mines and Technology (UMaT) has also shown interest in training the students after completing their SHS education.
Dr Osei Yaw Adutwum said this while delivering a keynote address at the launch of the 2023 edition of the Ghana Teacher Prize
Held on Wednesday August 23, 2023 by the National Teaching Council, the awards event is under the theme 'Teachers at the Heart of Quality Education".
The Member of Parliament for Bosomtwe constituency during his speech said he was amazed to witness himself how students of Afia Kobi Ampem Girls SHS designed and build a n aeroplane.
"I am sure most of you have heard about Afia Kobi Ampem Girls Senior High School and the great transformation that is taking place there, I was there just recently to spend time with the students. That was my second time in the school because I had visited them when I learned about their ability to build and fly a drone"
"I saw for myself things they have invented, and I was amazed how Ghanaian ladies can come together to get an unmanned aircraft flying going one square mile and coming back"
"Today Zipline has approached the Ministry, University of Mines and Technology and the ministry of Defense wants to partner the students for a mega project"
Inspiration from Afia Kobi Ampem Girls SHS
Dr Osei Yaw Adutwum again revealed that exploits by the Afia Kobi Ampem Girls SHS on the Aviation and Aerospace Engineering sector have inspired the Ministry to invest more in that area.
He added that, the education ministry is going to bring SHS and University students together, to create more local drones in the country.
Aviation and Aerospace Engineering at SHS
The Bosomtwe MP also explained that some selected senior high schools will start offering Aviation and Aerospace Engineering program ls beginning next academic year.
He added that, although Government had planned this as part of its educational reforms recent developments from Afia Kobi Ampem Girls SHS have shown this is the time to do much courses at the second cycle institutions.
He noted that, among the selected twelve SHS to begin the program is with Afia Kobi Ampem Girls SHS serving as the pioneers to develop the creative ability of students and improve on the science to humanities ratio.
Introduction of Stem Education
The Education Minister assure Ghanaians of Government's commitment to introduce Science, Technology, Engineering and Mathematics (STEM) education right at the basic school level
"We have built over ten STEM schools across the country, dozens of modern Junior High Schools are also under construction which when completed will over the existing 19th century education in parts of the country to 21st century system of Education powered by STEM "
Background
The Engineering Club of Afia Kobi Ampem Girls SHS in April 2023, designed and flew a jet aircraft as part of their project work in the school.
This is the maiden flight for a Naval Maritime Patrol aircraft made by Afua Kobi Ampem Girls SHS Engineering Club a geography tutor, Mr. Ferdinand Sam as Project Engineers.
Video of the project has since gone viral following a publication by OTEC News reporter Jacob Agyenim Boateng, on the Kumasi-based OTEC 102.9 on their prime-time afternoon political show "Dwabrem", hosted by Prince Ade (D. O. K Cash).
Source: Ghana/otecfmghana.com/Jacob Agyenim Boateng