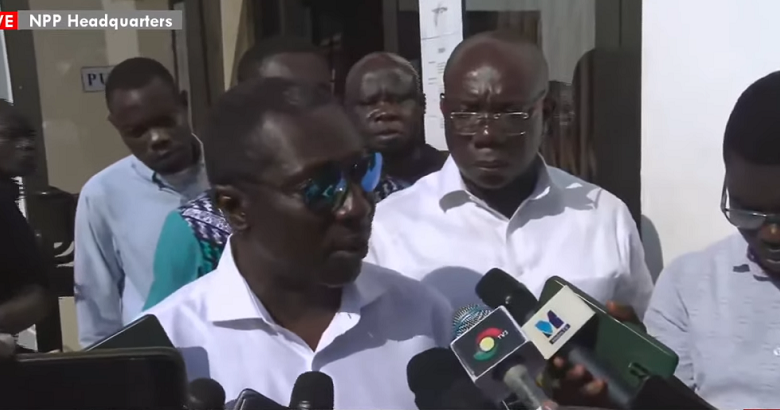 Spokesperson for the National Elections Committee of the New Patriotic Party (NPP), Mr Alexander Afenyo-Markin has said that, the Ruling New Patriotic Party (NPP) has accepted the Alan Kyeremateng's withdrawal letter without prejudice.
Mr Alexander Afenyo-Markin also asked the campaign team of the embattled former Trade and Industry Minister Alan Kwadwo Kyerematen to furnish them with evidence of violence against his members during the party's super delegate's conference
According to him, the committee is waiting for Mr Alan Kwadwo Kyerematen to help the committee's quest to probe his claims by providing evidence to them.
Mr Afenyo Markings said this on Wednesday September 6, 2023 after the committee's meeting with presidential aspirants of the NPP.
Alan Kyeremateng's withdrawal
Alan Kwadwo Kyerematen, a presidential hopeful in the upcoming presidential primaries of the (NPP), stepped down from the race.
In a press release issued Tuesday September 5, 2023, Mr Kyerematen cited election irregularities that favored one particular aspirant and condemned the unprecedented acts of intimidation and violence that certain delegates were subjected to during the recent Special Delegates Conference.
Kyerematen, who had been analyzing the results of the August 26th elections with his shocking defeat, expressed disappointment in the party and its members.
"The level of intimidation of varying intensity, directly and indirectly unleashed on a significant number of Delegates at various Voting Centers across the sixteen regions, is unprecedented in the history of our Party," he said.
Addressing the Media in Accra on Wednesday September 6, 2023 Mr Alexander Afenyo-Markin indicated that "we have also received the withdrawal letter officially by Hon Kyeremantng and the party has accepted the withdrawal without prejudice".
He added that, during the discussions with the four aspirants and their representatives, the election committee deliberated on their proposals.
But after these talks, which were held in-camera, the ballot was postponed as the meeting ended inconclusively.
According to the committee spokesperson, Hon Afenyo Markin, the November 4, election will be executed in tandem with the party's guidelines.
He, however, fell short of revealing what exact issues were discussed.
"We have agreed to proceed with the guidelines. And like I said, when we are done, we will again serve you notice of the guidelines and soon thereafter we will proceed with the balloting," he said.
Pivotal among the questions posed by the press were the concerns raised by Alan in his letter on Tuesday night.
Answering to questions from the media on the claims by Mr Alan Kwadwo Kyerematen, Mr Afenyo Markings they will to happy if the former Trade Minister could help the party in that regard
Source: Ghana/otecfmghana.com/Jacob Agyenim Boateng