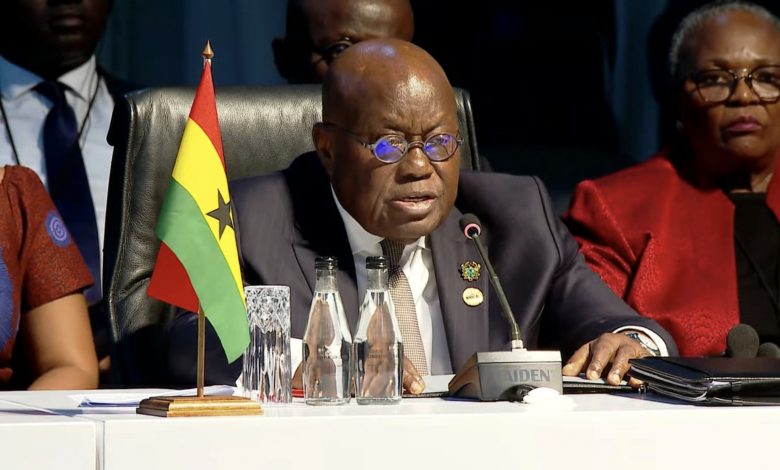 President Nana Addo Dankwa Akufo-Addo has noted that the ban on illegal mining, also known as galamsey, is yielding positive results towards the aim of reducing carbon emissions.
Speaking at the 2023 Africa Climate Summit in Nairobi, Kenya, the President noted that the ban on galamsey, which has been destroying water bodies and forest reserves, has helped to reduce the country's carbon emissions.
President Akufo-Addo added that several flagship policy initiatives such as planting for food and jobs, one village, one dam and the ban on illegal mining have all contributed to reducing carbon emissions and building the country's resilience to the impact of climate change.
"We placed a ban on illegal mining the phenomenon we call galamsey which was destroying our water bodies, vegetation and our forest. Some 20, 000 young people have been engaged to plant more than 30 million trees in two years to create jobs and restore degraded lands.
"These policy initiatives are already yielding positive results in the attainment of SDG Goals, particularly the goal of reducing our carbon emissions," President Akufo-Addo said.
He called on other African countries to take similar steps to reduce their carbon emissions and build resilience to the impacts of climate change.
In a related development the Chiefs and people of Akyem Hemang, a farming community in the Fanteakwa South District of the Eastern Region, have issued a 10-day ultimatum to the Ghana Police Service, Eastern Regional Coordinating Council, and the local assembly to either drive away or arrest illegal miners who are polluting water bodies and destroying farmlands in the area.
The Chiefs say that if the agencies fail to halt the operations of the miners within 10 days, the community will take the law into their own hands to protect and preserve their water bodies and farmlands.
Speaking to the press, the Chief of Akyem Hemang, Osabarima Mmirrikkissi Okasum Apori Atta, said that he could no longer hold back the rage of his people.
"We know you have done your best, but it is not good enough, if you can't do it, give us about 10 policemen to accompany us. Who has authorised them to come and mine our waterbodies in the first place? We cannot build Ghana in this way…I cannot hold back the anger of my people again.
"Within 10 days, if we don't hear anything we will apply officially, to follow due process to go on demonstration and we will need police guard to drive them away. If there are no laws in this land, let us know so we take the laws into our own hands."