Politics
Every eligible voter will be captured, EC chair Jean Mensa says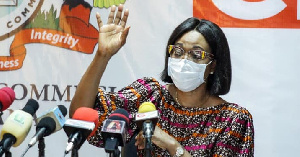 The chairperson of the Electoral Commission (EC) Jean Mensa has given a firm assurance that no eligible Ghanaian who is desirous of registering to vote in the 2024 general election will be disenfranchised.
She said the commission had put in place the needed measures to ensure that all qualified persons were captured in the electoral roll.
"We have heard allegations from various quarters that the commission is seeking to disenfranchise eligible voters," Mensah said. "This is false; we have no interest in disenfranchising any eligible person."
The EC boss said that the commission would roll out a continuous registration exercise across the country next year to ensure that all qualified persons were registered.
The EC started a limited voter registration exercise on September 12, seeking to register persons who have turned 18 years after the previous registration exercise.
The 21-day exercise is also an opportunity for persons who have not previously registered with the commission to have their names captured on the voters' roll.
A section of the public and some political parties raised concerns that the EC was deliberately trying to prevent some eligible persons from participating in the registration exercise.