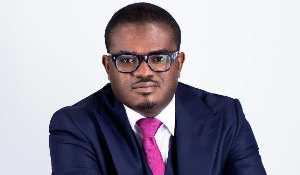 The Office of the Special Prosecutor has closed its investigation into corruption allegations levelled against former Minister of State at the Finance Ministry, Charles Adu Boahen, following an exposé against him by investigative journalist, Anas Aremeyaw Anas and his Tigereye PI firm.
OSP in its report said it has decided to close the case because it found that, although Adu Boahen engaged in influence peddling, he didn't engage in any actual criminal activity which warrants an action by the Special Prosecutor.
"Though the conduct of Mr. Adu Boahen amounts to trading in influence or influence peddling, which is closely associated with corruption, there is no actual criminal prohibition of his acts in respect of which the OSP has a mandate to further act."
"On that reckoning, the Special Prosecutor directs the closure, at this time, of the investigation in respect of allegations of corruption and corruption-related offences involving Charles Adu Boahen contained in the investigative documentary titled Galamsey Economy published by Tiger Eye P.I. The investigation may be re-opened should the circumstances and further facts so dictate."
Background
Tiger Eye PI investigations into influence peddling led to the removal of the Minister of State at the Finance Ministry, Charles Adu Boahen.
According to Tiger Eye PI investigations, Mr. Boahen told undercover journalists that Vice President Dr. Mahamudu Bawumia could be paid $200,000 as an appearance fee for investors.
This led to Vice President dissociating himself from the alleged conduct of Mr. Boahen.
Dr. Bawumia in a post on Facebook in November 2022 said Mr. Boahen should be dismissed and investigated if the revelation were accurate because his position would be untenable.
Minutes later, President Akufo-Addo sacked the minister and referred the claims to the Special Prosecutor for further investigations.
Mr. Boahen denied the claims of corruption in the story and said there was an attempt to entrap him in 2018.
The initial revelations were published in the New Crusading Guide ahead of the screening of an exposé on illegal mining.
In a statement on November 16, 2022, the Special Prosecutor, Kissi Agyebeng, said his office has promptly commenced an investigation into the actions of Mr Adu Boahen and any other implicated person.