Politics
Ashanti MPs, businessmen, party sympathizers, elders will pay for TnT, food of Ashanti delegates to show Bawumia love – Chairman Wontumi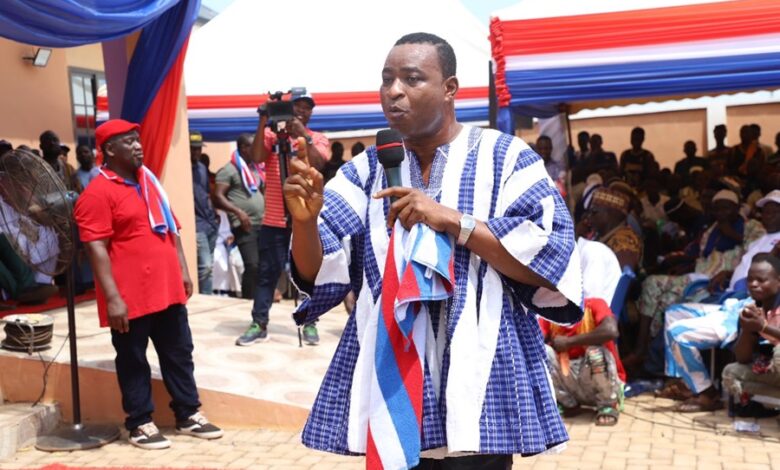 There is fierce competition as to who would pay the cost of transportation and feeding for NPP delegates in Ashanti Region on Nov 4th, the Chairman of the party in the region has disclosed.
According to him, several persons have asked the Bawumia campaign team in the Ashanti region to provide the cost of transporting and feeding the delegates so they could fund it as part of their support for Dr Bawumia as he seeks to lead the NPP.
Bernard Antwi-Boasiako popularly known as Chairman Wontumi, made the disclosure while speaking to party delegates at Kumbungu in the Northern Region on Thursday, 26th October, 2023.
Chairman Wontumi, who is also the Chairman of National Chairmen and leads the party in its biggest stronghold. has been a key figure in Dr Mahamudu Bawumia's campaign, and has been on the trail with him throughout his engagement with delegates in the five northern regions.
Addressing the delegates, Chairman Wontumi said he had been sent by his compatriots to tell the people of the northern regions that their brother Dr Bawumia had been endorsed and accepted by all stakeholders in Ashanti.
The region, he emphasized, is solidly behind the candidature of Dr Mahamudu Bawumia as he seeks to lead the party, and will show him special love in diverse ways on 4th November, 2023 when the party goes to the polls.
"I am here to tell you that Dr Bawumia has been accepted by Otumfuo Osei Tutu II as his son, so he is now also a Prince of Asante. Otumfuo has named him Agyemang, so your brother is now also part of us," he declared.
"As I am here in the North campaigning for Dr Bawumia, I have been receiving calls from elderly people from inside and outside the party in Ashanti Region telling me they want to support Dr Bawumia.
"This morning I have had calls from (my people) in Ashanti, and they told me that some of the chiefs, businessmen and women, and they are saying that on 4th November the lorry fare, and the food the delegates will eat, they say they want to take all the expenses. This is the kind of love Ashanti wants to show NPP. This is the kind of love they want to show Dr Bawumia," he announced to wild cheers.
Not to be outdone, the Chairman for Northern Region, Mohammed Adam Bantima Samba, supported by the Deputy Majority Chief Whip, Hon Habib Iddrisu announced that the MPs and party elders would also personally foot the bill for delegates in the region, with indications that other regions will soon follow suit.
Source: Ghana/otecfmghana.com