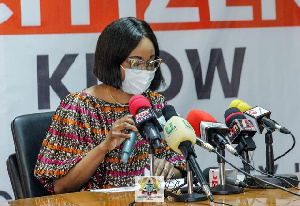 Jean Mensa, Chairperson of the EC
The Majority Leader is expected to present a CI before parliament, titled the "Representation of the People (Parliamentary Constituencies) (Amendment) Instrument, 2023."

This amendment aims to establish 25 additional constituencies, in addition to the existing 275 constituencies in the country.

The Electoral Commission (EC) had previously indicated its ongoing efforts to create new constituencies, including one from the Guan District.

This process was set to progress when parliament reconvenes in October 2023.

Dr. Eric Bossman Asare, the Deputy Commissioner of the EC responsible for Corporate Services, shared these developments during an interview with TV3 on Monday, September 11, 2023.

"We are in the process of creating some new constituencies and Guan District is one of them. If not because parliament is on recess, we should have started the process in parliament," Dr Bossman said.

Dr. Bossman disclosed that the Guan District is among the areas set to receive a new constituency, as the Commission initiates the process of creating new constituencies for the 2024 elections.

The First Deputy Minority Chief Whip in Parliament, Ahmed Ibrahim had accused the presidency of influencing the Electoral Commission (EC) to create 25 new constituencies ahead of the 2020 elections.

He alleged that the move to give the New Patriotic Party to win more seats as their stronghold will benefit more from the intended regions with the Ashanti Region obtaining 17 out of the 25 new constituencies to be created.


NAY/EA
Comm