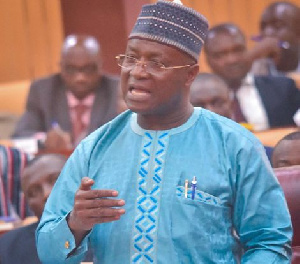 The Majority Leader in Parliament, Osei Kyei-Mensah-Bonsu, has called for the management of the Volta River Authority (VRA) to appear before the House to answer questions concerning the spillage of the Akosombo dam and its aftermath.
He said this would help to find answers to some nagging questions and find ways to avoid similar occurrences from happening in the future.
The VRA began the controlled water spillage from the Akosombo and Kpong Dams on September 15, 2023, due to a consistent rise in the inflow pattern and water level of the Akosombo reservoir.
Thousands of residents in South Tongu, North Tongu, Central Tongu, Asuogyaman, and several other areas had their homes submerged due to the spillage.
The authority announced the conclusion of the controlled spilling of the Akosombo dam on Tuesday.
Speaking on the floor of Parliament on Tuesday, Mr Kyei-Mensah-Bonsu said, "I believe we may need to find some answers to some questions, and I guess the speaker is not yet here, but when the speaker comes, we will have some discussions with him, and I believe it will be important for us to invite VRA to come and fully brief the house about what has happened, the repercussions, and how to avoid any future events."
The Majority Leader's call comes as the country continues to grapple with the aftermath of the Akosombo dam spillage.
Many displaced residents are still struggling to rebuild their lives, and there are concerns about the long-term impact of the spillage on the environment and the economy.