World
Ghana abstains from vote as UN Security Council rejects Russian resolution on Gaza war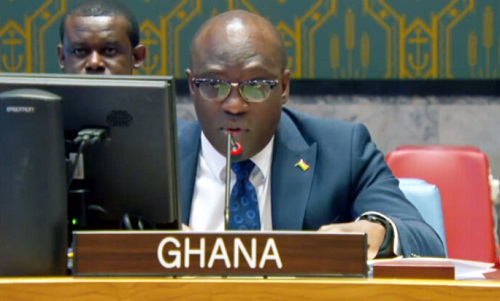 In a crucial session at the United Nations Security Council on Monday night, Ghana abstained from voting on a resolution proposed by Russia concerning the conflict in Gaza.
The resolution, put forth by Russia, called for a humanitarian ceasefire, the release of hostages, aid access, and the safe evacuation of civilians in the war-torn region.
Out of the Council's 15 members, the Russian-led draft received five votes in favour (China, Gabon, Mozambique, Russia, and the United Arab Emirates) and four against (France, Japan, the United Kingdom, and the United States). Notably, Ghana was the sole African country to abstain, while Gabon and Mozambique voted in favour. Other abstentions included: Albania, Brazil, Ecuador, Malta, and Switzerland.
For a resolution to be adopted, it requires at least nine affirmative votes, with none of the five permanent members issuing a veto.
Russian Ambassador Vassily Nebenzia expressed regret over the resolution's failure, attributing it to what he termed the "selfish intention of the Western bloc."
He emphasized the urgency of addressing the humanitarian crisis in Gaza and urged unified action.
However, US Ambassador Linda Thomas-Greenfield criticized the resolution for not addressing Hamas' actions, arguing that it failed to condemn the group's terrorist activities.
She underscored the need to hold Hamas accountable for civilian casualties and the dire situation in Gaza.
Riyad Mansour, the Permanent Observer of the Observer State of Palestine to the UN, implored the Security Council to adhere strictly to international law and emphasized the gravity of the situation for Palestinians.
Israeli Ambassador Gilad Erdan characterised the moment as pivotal for the Security Council, asserting that Hamas shares an ideology akin to the Nazis. He called on the Council to designate Hamas as a terrorist organisation and hold it accountable for the situation in Gaza.
Additionally, he advocated for full support of Israel's right to self-defence and the immediate release of all hostages.