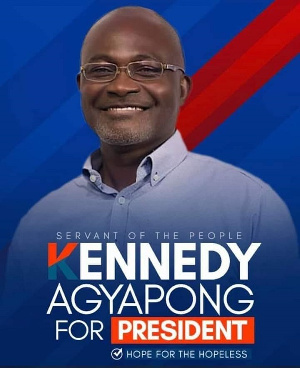 A group calling itself, "Ken Asempa Dawuro" has urge delegates of the governing New Patriotic Party NPP to ignore intimidations and vote for Kennedy Agyapong as the next flagbearer of the party
The group has expressed deep concerns about what they termed as unwarranted intimidations in the process leading to the election of the party's presidential candidate
The group in a press release on Sunday October 29 ,2023, signed by Kwadwo Owusu, the Head of Communications for " Ken Asempa Dawuro" and copied to OTEC News desk said some top officials within NPP are coercion delegates to for a particular candidate.
The release however emphasized that, the camp of Kennedy Agyapong will not allow such intimidations and ensure that the NPP's presidential primaries is done on a level playing ground.
They have called on delegates to remain calm and resolute and vote for Kennedy Agyapong come November 4 presidential elections.
Read full statement below
IGNORE INTIMIDATIONS AND LET YOUR VOTE COUNT 4 KEN.
The mantra, KEN CAN DO is not a political accolade but the factualness of the state and nature of ones ability to realize the beauty in his dreams and always willing to share and ready to leave a positive mark in the lives of the people, visible and palpably clear to relate to, and talk about, without discrimination, hence all the Ghanaian youth are all over, drumming Ken Asempa Dawuro to the door steps of the people.
Delegates in the NPP today are grateful to Ken for his boldness and honest nature, opening their eyes to vote on issues, on what any of the aspirants has done for the party, themselves as delegates and Ghana, but to them as delegates, they only know Ken who approaches them with solid messages that woo delegates easily coupled with things he has done, visibly clear to relate to.
But, the political greedy scavengers will not rest, and are hell-bent on blocking every truth to get on the political landscape and eventually make genuine stories of the likes of Ken, look like a mix of pulp fiction and Greek tragedy to attain their selfish parochial interest, but fortunately, such funny characters cannot operate under him, simply because, selfishness and lies cannot survive under the man Ken, as president.
Calling delegates on phone under coercion to vote for a particular aspirant defiles the very accolade we hide behind, as the bastion of democracy in Ghana and against the rules of the game.as well, but the political scavengers will not halt and are doing it for their personal interest which has the tendency to breed sharp divisions in the elephant family after this internal flagbearership race.
Do they care about the future of the party. ASEM S3B3
On a more serious note, Ghanaians are repulsively repugnant and implacably opposed to such an open display of internal defilement against the rights and privacy of delegates in our great party, which can spell doom for the NPP, if the rank and file of the party remain in such an appalling, undetachable deafening silence.
Let's remain calm, resolute, firm and unfazed in talking to delegates without any intimidations where so ever and the Lord who called Kennedy Ohene Agyapong, will speak and crown him victorious in November 4th.
Deep vision, great minds behind and with God all things are possible.
Ken is the next president.
Kwadwo Owusu
Head of Communications,
Ken Asempa Dawuro
0244160707
Source: Ghana/otecfmghana.com/Jacob Agyenim Boateng