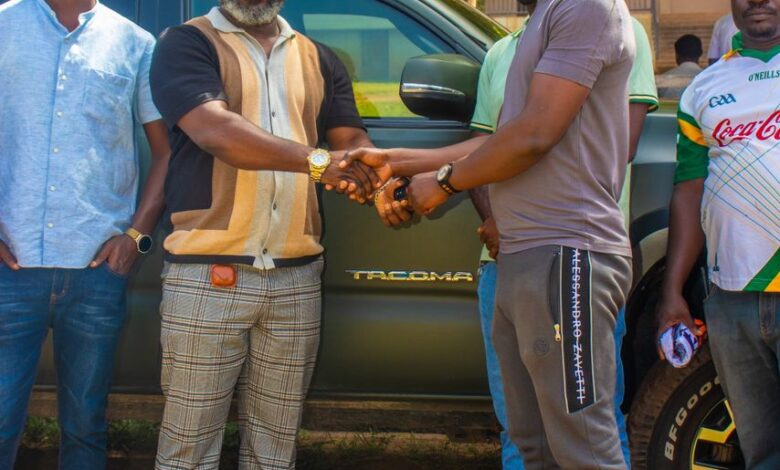 Hon Kwadwo Baah Agyemang, aspiring parliamentary candidate for Asante Akyem North NPP receiveing the keys to the Tacoma vehicle from Williams Aboagye Boateng, Close Friend to the Australia based Businessman.
Nana Yaw Baffuor Gyimah, an indigene of Asante Akyem North and a businessman based in Australia has donated a brand new Toyota Tacoma towards the campaign of Hon Kwadwo Baah Agyemang, an aspiring parliamentary candidate for the Asante Akyem North NPP and CEO of Ghana Digital Centers Limited (GDCL).
At a brief ceremony over the weekend, Mr Gyimah presented the vehicle and documents to the Campaign Team of Hon Agyemang.
Speaking to this reporter, Mr Gyimah said the gesture is to show appreciation to Hon Baah Agyemang for granting him opportunity to do well in life and for supporting less privileged people.
"I am donating this vehicle towards the campaign of Hon Kwadwo Baah Agyemang, a man who has shown so much care to some of us and many others. I, in particular have gotten this chance to do this because he invested in me and gave me the opportunity to travel abroad to work and earn something for myself", Mr Gyimah stated.
Advice:
Mr Gyimah advised the people in Asante Akyem North especially delegates of the New Patriotic Party to vote for someone whose actions make him fit to lead the party.
He also asked that they vote for someone whose preoccupation is to see people do well in life and is ready to support them.
Mr Gyimah encouraged the delegates to look out for the person who can best lobby for projects and other initiatives to Asante Akyem North and vote for such.
"I am sure that the delegates will size- up persons aspiring to lead Asante Akyem North and choose Kwadwo Baah Agyemang because in him is the embodiment of kindness and a commitment to the development of the constituency", Mr Gyimah noted.
Reaction:
Speaking to this reporter, Hon Agyemang said he was happy that Nana Yaw Baffuor Gyimah has remembered the modest support he gave him previously.
He noted that those who show appreciation makes it easy for other people to support those who are in need.
Hon Agyemang said he is committed to using both his resources and influence to support all residents and indigenes of Asante Akyem North so that together they can make the constituency great again.
"I thank Nana Baffuor Gyimah for showing support to my campaign and donating this rugged and important car in appreciation of the modest contribution i made to his previous life", Hon Baah Agyemang said.
Source: Ghana/otecfmghana.com/ Michael Ofosu-Afriyie, Kumasi.