World
King Charles acknowledges Kenya's colonial-era suffering but stops short of apologizing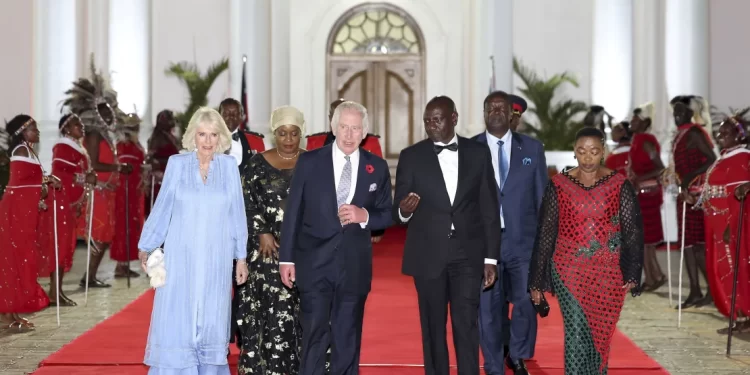 When King Charles III touched down for his four-day state visit in Kenya, it seemed inevitable the new monarch would have to grapple with Britain's legacy of colonialism.
Mounting demands for formal apologies and reparations have overshadowed recent royal tours to former British colonies.
Buckingham Palace would have been keen to avoid a repeat of Prince William and Catherine's Caribbean trip last year, which was marred by anti-monarchy demonstrations and awkward meetings with local republican lawmakers.
"It matters greatly to me that I should deepen my own understanding of these wrongs, and that I meet some of those whose lives and communities were so grievously affected," Charles continued.
"None of this can change the past. But by addressing our history with honesty and openness we can, perhaps, demonstrate the strength of our friendship today. And, in so doing, we can, I hope, continue to build an ever-closer bond for the years ahead."
Kenya is a country that holds special significance for several members of the British royal family. This visit is Charles's fourth to the east African nation and his first to a Commonwealth nation since his coronation.
It's where the Prince of Wales proposed to Kate Middleton. And it's of course where his mother visited as a princess but left as a Queen following her father's death in 1952.
But it was also that same year that Mau Mau freedom fighters – originating from the country's largest ethnic Kikuyu tribe – rebelled against British colonialists.
As the empire wrestled the insurgency in one of its most important colonies, it declared a "state of emergency" and rounded up thousands of Kenyans, holding them in squalid conditions where they were subjected to horrific acts of torture by the colonial administration, including castration and sexual assault.
Estimates from the Kenyan Human Rights Commission (KHRC) suggest some 100,000 people in custody were tortured, maimed or killed during the violent eight-year period.
As Kenya approaches its 60th anniversary of independence from Britain in December, Charles candidly addressed the "most painful moments" of the long and intricate relationship during his visit to the capital Nairobi on Tuesday.
In a strongly-worded speech at a state banquet held in his honor by Kenyan President William Ruto, the 74-year-old royal told guests that "the wrongdoings of the past are a cause of the greatest sorrow and the deepest regret."
He recognized the "abhorrent and unjustifiable acts of violence committed against Kenyans" in their struggle for statehood adding, "there can be no excuse."
While the King showed contrition for their mistreatment, he did not offer a formal apology or mention reparations in his speech. Calls for a full apology have dominated local conversation in recent days, with the KHRC on Sunday urging Charles to issue an "an unconditional and unequivocal public apology" during his trip.
However, that is not in his power to give and is the purview of the UK government rather than any members of the royal family. The King can only act on the advice of his ministers when he represents the country abroad.
Ruto responded to the King's acknowledgment of historic wrongdoings, particularly the violent suppression of the Mau Mau uprising in the 1950s, describing Britain's colonial rule as "brutal and atrocious" and the administration's response as "monstrous in its cruelty."
"While there have been efforts to atone for the death, injury and suffering inflicted on Kenyan Africans by the colonial government, much remains to be done in order to achieve full reparations," the Kenyan president said.
However, Ruto also commended the King's "exemplary courage and readiness" to recognize "uncomfortable truths."
Earlier on Tuesday, the monarch visited the Uhuru Gardens, where Kenya declared its independence in 1963. He laid a wreath at the Tomb of the Unknown Warrior. He later toured a new museum showcasing Kenya's history, including a "Tunnel of Martyrs," where British-signed death warrants serve as a stark reminder of past injustices.
"This is a highly encouraging first step, under your leadership, to deliver progress beyond tentative and equivocal half measures of past years," Ruto added.
A decade ago, the British government paid £19.9 million (around $30 million at the time) in compensation to over 5,000 Kenyan claimants for human rights violations and conceded that it sincerely regretted the historic abuses, but denied liability for them.
The wounds and trauma inflicted during that dark period are still prevalent today, according to Evelyn Wanjugu Kimathi, the daughter of one of the leaders of the Mau Mau uprising, Dedan Kimathi.
Kimathi told CNN she had hoped Charles would "make a national apology" but was "not expecting so much" because the King "is not a political leader and he cannot make any political decisions."
She said the Mau Mau community want more than gestures and vowed to keep fighting for reparations. "We want closure … we'll still continue pushing. The struggle continues," Kimathi added.
It's not just in Kenya that the royal family has faced a reckoning over the impact of Britain's imperial past as well as the complex subject of its legacy of slavery. Shifting attitudes have sparked debate in many of the former British colonies that make up the 56-member Commonwealth organization he now heads up.
While King Charles is somewhat constrained on royal tours taken on behalf of UK government, he has previously expressed a willingness to Commonwealth leaders to "find new ways to acknowledge our past."
In remarks at last year's Commonwealth Heads of Government Meeting, Charles expanded on this challenge of modernity, saying "this is a conversation whose time has come" and it starts "with listening."
Buckingham Palace said earlier this year that it would support research into the monarchy's historical ties to the slave trade and the King takes the subject "profoundly seriously."
Source: CNN