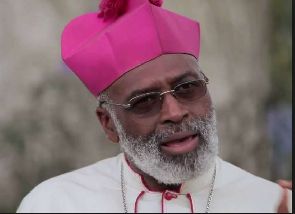 The Metropolitan Archbishop of Accra has defended President Akufo-Addo's recent controversial response in an Aljazeera Interview about legalizing homosexuality in the country.
Charles Palmer-Buckle said the President gave the right response and only emphasised Ghana's cultural reality as it relates to homosexuality.
The President was criticized for stating that homosexuality is still illegal in Ghana because there has not been enough advocacy for it to be legalised and that it is something that is bound to happen.
He also noted that presently the practice of homosexuals is at variance with the country's norms, culture and values.
His comments triggered a new wave of controversy, one that was prevalent during the administrations of the late Professor John Evans Mills and ex-president John Mahama.
In support of the President's response, the Metropolitan Archbishop of Accra said the 1992 Constitution still considers it illegal so there is no argument about that.
"The President is not God, he cannot say that Ghana will never accept it. He said culturally, it is not an issue that Ghanaians will accept," Palmer-Buckle told Joy News.
He said both the late President Atta Mills and President Akufo-Addo emphasised were emphatic about the Ghanaian culture in relations to the phenomenon.
He said the Catholic Church believes that homosexuals are also children of God "just like the murderer and heterosexual" and therefore their rights have to be defended.
"I don't think people listened very carefully to the President before they jumped to a conclusion," he said.
Source: myjoyonline