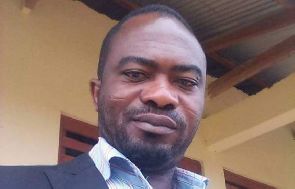 The Ghana Education Service (GES) has stated that the head teacher of Breman Edumanu D/A Basic School in the Asikuma-Odoben-Brakwa District of the Central Region, Robert Sepey, has breached the Professional Code of Conduct of the GES which comes with sanctions, by having a sexual affair with a student, but he is yet to appear before the two member committee set up to investigate the matter.  
The GES said until the committee has brought its final report that indicts the head teacher of sexual offense, he has not been sacked, as been speculated in the media, though he has vacated his post.
A four-minute video which captured the head teacher and a student, Priscilla Tetteh, having sex while the girl knelt on a kitchen stool, has become the toast of social media for the past few days.
Memes of the 'stool sex' have flooded social media since the video came out.
The student told the Central Regional Police Command, during interrogation that the head teacher did not rape her and was based on was consensual.
Appearing before the Asikuma-Odoben-Brakwa District Director of Education, Priscilla Tetteh said the video was recorded a year ago in the head teacher room and they both agreed to record whiles they were having sex so that they will watch later.
She also said she was in a relationship with the head teacher at that time but are no more.
Speaking in an interview with Otec News' Francis Appiah on Thursday January 26, 2018, the Public Relations Officer (PRO) Cassandra Twum Ampofo, said appropriate sanctions will be melted out to head teacher if found guilty of their code of conducts.
"Our code of conduct, page 27 on sexual offense clearly states that ' no teacher should involve in any immoral relations with the pupils or students in his own school or any other educational institutions in which he performs any duty', so if anyone goes against it, definitely sanctions must be applied," she explained.
"Now the student involved has come out with side of her version, what we are waiting now is for the head teacher to come before the committee and say his version too, so for now let's treat the matter as an alleged and wait for the two member committee to bring out their final report," she added.
Source: otecfmghana.com/ Francis Appiah