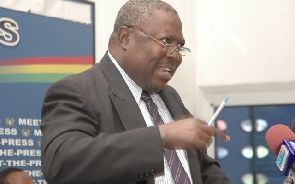 The yet-to-be sworn in Special Prosecutor Martin ABK Amidu has promised to respect the rights of citizens when he assumes office and will not abuse his powers.
In his last letter as 'Citizen Vigilante' of which he dubbed: "Parting thoughts as Citizen Vigilante", the former deputy attorney general said no one must harbour fear over his approval "so long as that citizen has not seriously violated any law."
"There is no need for any citizen to go into exile as some are alleged to have done, or to contemplate or fear my approval and pending appointment as Special Prosecutor, so long as that citizen has not seriously violated any law worth investigating or prosecuting in the national interest under my remit.
"The 1992 Constitution protects every citizen from capricious exercise of discretion and I will ensure strict compliance with the letter and spirit of the 1992 Constitution in protecting the citizen's rights and as well as any abuse of the public purse," Mr. Amidu stated.
Below is the full article:
The right to criticize a fellow citizen, however vigorous, cannot be defamatory of that citizen or even in contempt of court when it is kept within the limits of reasonable courtesy and good faith. As Lord Justice Salmon said in R v Metropolitan Police Commissioner; Ex Parte Blackburn at pages 155-156:
"…The criticism here complained of, however rumbustious, however wide the mark, whether expressed in good taste or in bad taste, seems to me to be well within limits."
It is in this spirit that I have taken comments and criticism arising from my responses to the Appointments Committee of Parliament at my approval public hearing on 13th February 2018. Since I met the President on 9th January 2018 for a nomination confirmation discussion and accepted the potential nomination for consideration for approval by Parliament, I considered myself a potential public servant and stopped my citizen's constitutional defence activism under Article 3 of the Constitution by not responding to unconstitutional comments and criticisms about my constitutionally mandated activities. As I put it at my approval public hearing, the nomination gagged me from speaking or writing in the press as a private citizen would.
From the moment I take my oath of office, I will be a quasi-judicial officer enjoined to act impartially and independently in the execution of my duties. My voluntary acceptance to be appointed Special Prosecutor imposes upon me strict compliance with the Code of Conduct and Ethics of the legal profession in which I am viewed as an officer of the court, whether in or outside the court room while I remain in office. In view of my acceptance, there will of necessity be a change in the way I will exercise the plentitude of my cherished rights as a citizen in accordance with Article 3 of the Constitution.
Before then I wish to say my response at my approval public hearing that some of my articles are based on my perceptions and opinions does not mean that they were not based on fact or reality. An in-depth acquaintance with the Philosophy and Methods of Research will show that perceptions and opinions need not be based on conjecture or non-facts or illusion. Those learned in research methods and intelligence know that my answers were intended for the protection of my sources and collection methods giving rise to the conclusions I arrived at in my several articles on corruption and abuse of power for private gain.
Source: Starrfmonline.com