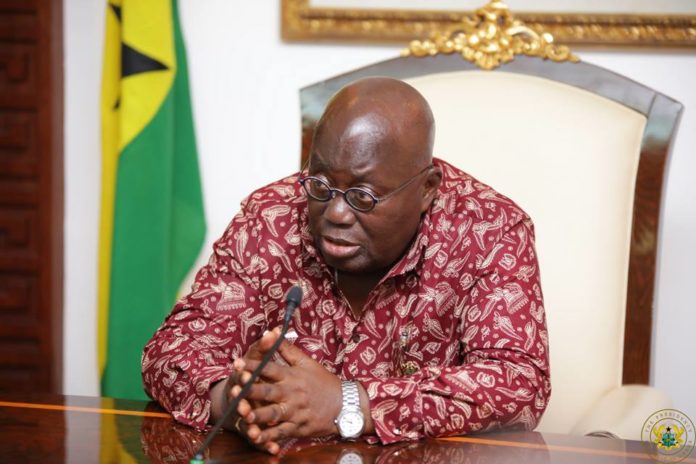 President Nana Akufo-Addo is set for a face to face private conversation with each of his 110 ministers in an appraisal expected to cost some their jobs.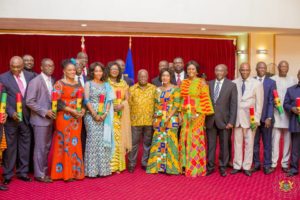 The one-on-one encounter is expected to start Friday where each minister will face a firing squad that is expected to include the Vice-President, Dr. Mahamudu Bawumia, the Chief of Staff Frema Osei-Opare and the Monitoring and Evaluation minister, Dr. Anthony Osei Akoto.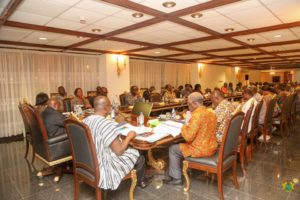 Photo: A government retreat at Peduase Lodge where the president met his ministers
Rumours of a reshuffle loomed over Christmas celebrations but have now crystallised in a corporate style appraisal process with the 'CEO' Nana Akufo-Addo expected to review a report prepared on each minister and his or her ministry.
The Monitoring and Evaluation ministry criticised as superfluous prepared the report which could see some ministers deemed surplus to requirements axed.
President Akufo-Addo with a taste for new governance style, outdoored his ministers during a televised session where he explained the reasons for his choice of each minister.
The minister will now explain to him why his choice was justified.
Joy News has learned the 110 ministers could be slashed to a "significantly lower" number.
The heaviest assemblage of an executive arm ever in Ghana's history sparked sharp criticisms from wide sections of the public.
Some ministers were packed with four executive heads – a minister and three deputies.
The President has had to defend this record number several times, the latest being at the 2018 media encounter where he said he was happy with the numbers.
He also said the output of government over the past one year proved his army of ministers worth its size.
But with an expected slash it may be that the rhetoric of satisfaction is giving way to the unabated criticism this number of ministers still attract.
Only one deputy minister, Deputy Agriculture Minister William Quaitoo, has left the government after making comments which were deemed ethnocentric while the Upper West regional minister was suspended last week over political vigilantism in the region.
A social media campaign was waged for deputy Trades and Industry minister, Robert Ahomka-Lindsay, to be sacked for comments deemed insulting while Carlos Ahenkorah, another deputy at Trades and Industry, engaged in a verbal assault on an NDC MP which sparked some muffled calls for his sack.
But perhaps the most widely criticised is the Sanitation minister, Joseph Kofi Adda, who is under intense social media pressure over filth in the cities.
Ghanaians spent Christmas rededicating their lives to God but also dedicated a lot of attention to Special Development minister Hawa Koomson after her 2018 budget showed she wanted to build a website for 800,000 cedis. It was later said the figure was an error and that it was 80,000 cedis instead.
Nonetheless, calls for her sack raged for weeks.
But it is the top-secret dossier of Dr. Anthony Osei Akoto that is expected to matter in this encounter with the president.
Source: myjoy